RELIEF CONTACT: DIASPORA
Shipping/Airfreight from New York
Laparkan fee:US $60/50 lbs package
Caribbean Cargo in Brooklyn has low rate of US$10/25lb box Tel: (718) 856-1805 or Email: ccpscha@verizon.net
Universal will carry 50lbs (sealed and labeled) free!
Call (718) 441-4900 (Q) or ( 718) 469-2900 (Brklyn)
In Canada: Contact the Guyana Consulate at (416) 494-6040. Or deposit at TD Canada Trust. Account Number is 06845204580. Branch no. is 18442.
In the UK: Guyana High Commission, call (44) 207 701 6876
In Washington, DC: The Guyana Embassy at 2490 Tracy Place NW. Phone: (202) 265 6900
In Florida: The Guyana Consulate at 795 NW 72 Street,
Miami, Florida. Please call (786) 235 0431

More....Early Flood News

Five Dead So Far
Mother of Three Dies
Three-Year-Old Drowns
Situation "Grim"—JOC
Tax Waived on Relief Imports
Frustration: Relief Goods Stolen
Flood Gone in 7 Days?
Is Water coming from Berbice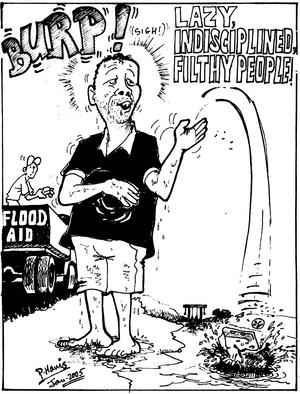 Cartoon by Harris/Stabroek News, directly accusing citizens who dispose of trash into canals, trenches etc.
GUYANA RELIEF CONTACT Guyan
uyana Hotline:
Guyana Red Cross 592-226-5174, 592-226-0384
The Guyana Relief Council: 592-225-3081
Salvation Army: 592 227-2619 and 592 226-9940
The Civil Defence Commission in Georgetown
at 226-1114, 226-1117, 226-2815

Direst Deposit to the Red Cross Disaster Fund acccount at the following: NBIC account# 653-346-7 and account #2763040; GBTI at account #CIDA814213, Scotia Bank at account #109778 and Demerara Bank at account #2162188

FLOOD POEMS

Flood 2005: Sonnet in Creole

dem dey in dem wet wet house
wid caugh and cold and sneeze
bare dem cheef like wan church mouse
through hunger and disease.
government share dere bags around
all bady did the same
pore people fled to higher ground
such wait pan such broken frame.
how much more abe gat fu face
how lang go be abe fate
fu doze who collect taxes
to keep flood from de coastal gate?
dem gaze pan dem homes below
pani fast, all thing else prapa slow.
kampta karran
| | |
| --- | --- |
| selected by Rakesh Rampertab | |

© 2001 Guyanaundersiege.com