Below are news pieces pertaining to three police killings; Carl Abrams, Kellewan Etwaroo, and Mohammed Shafeek; Abrams was shot by a police man, while Etwaroo and Shafeek were found dead while in police custody at the La Grange Police Station and Brickdam Police Station lock-ups respectively. (Click here to return to our page on police killings.)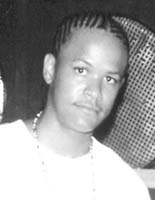 Carl Abrams, killed by a police man.
Cop Charged with Nabaclis Murder
from Chronicle
December 3, 2005
POLICE Constable Orville Tucker yesterday appeared before Magistrate Brassington Reynolds at the Vigilance Magistrate Court, East Coast Demerara charged with the murder of Nabaclis resident, Carl Abrams.
Tucker was not required to plead to the indictable offence and was remanded to prison until December 29, a release from the Police Public Relations Office said.
The November 12 shooting of Abrams, 22, prompted protests from Nabaclis residents outside the Police Divisional headquarters at Cove and John, claiming that the shooting was unjustified. His relatives also raised the matter with President Bharrat Jagdeo who asked the police to fully investigate the incident. Police had claimed that Abrams was a suspect in a matter of threatening behaviour involving a gun and was chasing the man he had reportedly threatened and who ran into Tucker that day.On seeing the cop, Abrams opened fire and Tucker returned fire, hitting him in the chest, police said.
However, this story was disputed by residents who said Abrams did not have a gun and was sitting outside a friend's yard on the Nabaclis Side Line Dam when he was confronted by the policeman.
They said he was shot as he moved towards the cop who was dressed in a black long-sleeved jersey with a camouflage cap pulled down in his face. After the public outcry, an investigation was launched into the matter and a report submitted to the Director of Public Prosecution (DPP) who advised that the constable be charged with murder.
Nabaclis Shooting...Residents Protest at Divisional Headquarters
from Kaieteur News
November 16, 2005
President Bharrat Jagdeo has urged the police to complete their investigations into the fatal shooting of Nabaclis resident Carl Abrams by tomorrow.
The President was at the time speaking to a group of concerned residents at the Ann's Grove Community High School some two miles from Nabaclis.The Nabaclis residents journeyed from their village to raise concerns about the initial investigations into the shooting, which has brought up many questions about police activity on the East Coast of Demerara.
Carl Abrams, 22, was shot dead by a police constable under questionable circumstances.
Yesterday scores of residents protested the killing outside the divisional headquarters at Cove and John.Some of the placards read: 'Nabaclis is not Buxton', 'Carlie was not a criminal' and 'Police brutality must stop'. The protest was conducted in a peaceful manner with the participants stopping to allow vehicles to access the Cove and John compound.There was just a little furor when the policeman in question was driven into the compound fully clad in his uniform. Speaking to members of the media yesterday Divisional Commander Leroy Brummell said that the matter is being impartially investigated. He said investigators have been taking statements around the clock and he assured the President that everything should be completed by tomorrow.
"We are doing the post-mortem tomorrow (today). The relatives wanted us to hold it back until Friday, but we cannot do that, I am not holding back the matter," he told the media.
He assured that the rank under investigation was placed under close arrest since the night of the shooting.
"I understand the feeling of the parent; I am a father too and, whenever my children are out of my house, I always feel uneasy. We will not be partial in this matter," Commander Brummell said.
According to Brummell, who is a Senior Superintendent of Police, the rank, who was on duty at the time of the hooting, was using a force firearm when the incident occurred. He however pointed out that the rank was not permitted to carry the weapon at all times. Brummell explained that his division had received no reports of the policeman's reported nefarious activities in the village.Several residents have claimed that the policeman was in the habit of extracting money from drug users with the threat of taking them into custody.
"If it (investigation) goes against him he will be charged," Brummel said.
Brummell said the policeman is being closely monitored should he attempt to commit suicide. There are reports that the rank had previously attempted suicide by ingesting a large amount of kerosene. Following the protest outside the Cove and John compound, residents were informed that the President would be visiting Ann's Grove, and they organised to stop him to voice their concerns. One woman reportedly knelt in the middle of the main East Coast Highway to force the President's convoy to stop.

However, the driver took evasive action and the vehicles proceeded on their way. Meanwhile, several persons from Nabaclis turned up at the Cove and John Police Station to report that they were robbed by the policeman in question.The police are insisting that anyone with information that could lead to the speedy conclusion of the investigation to come forward and provide statements to investigators.Yesterday's impromptu meeting with the Guyanese leader provided villagers with some satisfaction, and they have resolved to provide whatever assistance they can give to the police.
The President also reiterated his call for the police to crack down on the many 'drug blocks' in the communities which are being blamed for most of the problems on the East Coast of Demerara.

Storm over Killing of Nabaclis Man
from Stabroek News
Tuesday, November 15th 2005
A policeman in a long-sleeved black jersey and with a camouflage cap pulled down on his face shot a Nabaclis man dead on Sunday night and has now been pulled from duty as controversy swirls over the killing.
There are differing accounts as to why and how 22-year-old, Carl Anthony Abrams of Nabaclis was killed around 7 pm on Sunday. Eyewitnesses said he was sitting outside the yard of a friend when the policeman confronted him. Residents yesterday alleged that the policeman had earlier that night robbed a man on the Nabaclis line top of some $2000 and was apparently going to do the same to Abrams. Stabroek News was told that at the time of the robbery the policeman was carrying two weapons.
Yesterday, police spoke-sman, Assistant Superinten-dent, John Sauers in addition to a media statement on the incident, advised all those persons who have different accounts of the incident to make contact with the Commander of 'C' Division to give statements. He said, too, that the policeman in question has been pulled from duty and is being investigated.
In their statement the police said Abrams was a suspect in a report of threatening behaviour in which a firearm was used against a resident in the village. On Sunday evening while being chased by Abrams the resident ran into a policeman who was in the district, the police statement said. It added that upon seeing the policeman and the resident, Abrams allegedly fired a round in their direction. They both took evasive action and the rank returned fire, hitting Abrams in his abdomen. He was taken to the Georgetown Public Hospital Corporation for medical attention where he was admitted and later died.
The police however could not account for the firearm Abrams is said to have used despite him being unable to run when he was hit. Sauers said the information contained in the police statement is what was given to him at the time of the incident. He promised that if after the investigation there was something different this would be made public.
Residents and several close relatives of the dead person however disputed the police's account. Stabroek News was told that around 7:30 pm on Sunday the policeman was in the company of another man. Abrams was sitting on a bench in front of a friend's yard in the vicinity of the Nabaclis sideline dam but in his street. The policeman, a resident alleged, called Abrams upon seeing him and as the young man was going towards him he opened fire shooting him in his chest at close range.
Sabrina Campbell said on hearing the gunshot, she rushed out of her yard to investigate. "When I reached out I saw three persons, Abrams, the policeman and another man," she told Stabroek News. The young woman said as soon as she got to the scene the policeman asked her to support Abrams who was on the ground. "I said to him no and I went to get a vehicle to take Abrams to the hospital", Campbell said. Campbell added that before she spoke to the policeman, she heard him asking Abrams for money. "Wheh you money deh? wheh you money deh?," the woman recalled. Residents said Abrams had cash in his pocket along with two condoms. Katharine Fedee, the dead man's mother said she found only $400 in his pocket when she checked. Another $200 was left scattered in the grass. The condoms were also at the scene. Shirah Lewis, another resident, said she had just left for a nearby shop and on her way back Campbell broke the news to her. She said while crossing a bridge to get to where Abrams was shot, she saw the policeman and the man who accompanied him leaving the area. "I saw Abrams on the ground bleeding so I called on the policeman to pick him up," Lewis said.
She said instead of assisting the youth the policeman ran away. She and Campbell ran behind him, but they could not catch up with the lawman who fled through a dark alleyway on his way back to the Cove and John Police Station. Lewis said she and Campbell later flagged down a police vehicle that was passing on the road but when they explained to the ranks what had happened, they drove away. They eventually caught a minibus and escorted Abrams to the hospital.
The man died while receiving medical attention.
There was a gathering in front of Abrams' home when Stabroek News visited yesterday. There were no tears from residents but they all bore angry looks. Abrams was a very quiet young man in the area, they said, and was a disc jockey for a policeman's music set. Residents said the 22-year-old had spent most of his time in the community.
Fedee said her son had no criminal record. She told Stabroek News during a visit to the Cove and John Station yesterday she learnt that a report of threatening behaviour was made against her son since November 5, but this was never told to anyone, not even her son. "Nobody knows about this story that the police are coming with now", Fedee said.
_______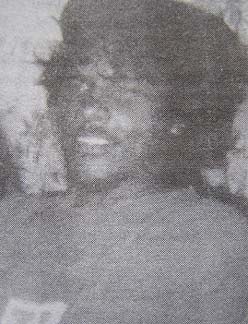 Kellewan Etwaroo, found dead in police lock-up.
Police Probing Death of West Bank Man
from Guyana Chronicle
July 8, 2004
THE Police are investigating an incident in which Kellawan Etwaroo, 38, called "Ramesh", was discovered dead in the lockups of La Grange Police Station on Tuesday morning.
According to the dead man's wife, Angela Deen, 33, of Lot 5 Palmer Street, La Grange, West Bank Demerara, she visited La Grange Police Station at about said 7:00 hrs on Tuesday taking with her a meal and a change of clothing for her husband. The woman said she was told that Etwaroo was scheduled to make a Court appearance that day.
Ms Deen said that she was unaware that her husband was dead. She related that the officer-in-charge asked her to accompany him to a room. There she was read a statement by the officer and asked to sign her name to the document.
The grieving woman told the Guyana Chronicle that she is illiterate and can only sign her name. The officer, she said, kept insisting that her husband was demented.
"He (the officer) keep telling me that me husband mad, but he was not sick, or he does ketch fits. In fact, he was a very strong man only does drink lil rum," Deen explained.
After signing the document, the woman said she was then told that her husband had died in the lockups after hitting his head against the wall on Monday night. After recovering from the shock, Deen said that she demanded to see her husband's body. She was then taken to the cell where she saw him lying on his abdomen with faeces covering the lower part of his body. Blood was oozing from his mouth.
"Blood been on his briefs, too, and he look like he get beat up cause he head bust up bad," Deen said between sobs yesterday.
While Deen was at the Police Station, her in-laws were at the Leonora Magistrate's Court awaiting Etwaroo's arrival. They had no idea that he was dead.
Recalling the incident, which she believed lead to Etwaroo's death, Deen said that her husband was drinking at a nearby rum shop at about 2:00 hrs on June 21. He was in the company of two women from the village.
"One of dem see a Rasta man come in de shop and she get frighten and tek off she two gold rings she been ah wear and give it to my husband fuh keep. He bring it home and give it to me fuh keep till de lady come collect it," Deen explained.
She said that later that morning the woman showed up for her gold rings and she was given them. However, the woman claimed that she had given Etwaroo four gold rings, not two, and she demanded that they hand over the other two rings, said Deen. Friday last, some three weeks later, Deen said, a vanload of Police ranks picked up her husband from a rum shop and took him to La Grange Police Station, where he was detained.
The woman lamented that since her husband's detention at the Police Station, she had visited the Station taking meals for him. Her requests to see or speak with her husband were denied.
"Me even carry dem children on Saturday and Sunday to see their father, but dem Police said 'he dey okay' and 'wheh you ah bring food fuh a mad man'," noted the woman.
When she visited the Station Monday, Deen said, she was told that her husband was alive and well. A post mortem yesterday morning revealed that Etwaroo died from five blows to the head inflicted with a blunt instrument. He suffered a massive hemorrhage and his body had marks of violence.
Etwaroo is survived by his wife, two children, his father and his siblings. The Police, in a press release yesterday, said that an investigation to determine the circumstances under which Etwaroo died has been launched. (Michel Outridge)

Detainee Died from Haemorrhage; Relatives Demand Investigation
from Kaieteur News
July 8, 2004
A postmortem examination on the body of Kellowan Etwaroo, who died on Monday whilst in police custody, revealed that the detained man died from severe haemorrhage.The autopsy report, which was conducted yesterday, confirmed that Etwaroo died as a result of massive head injuries. The injuries are consistent with those obtained by the banging of the head on a blunt object or a blunt object against the head.
He was also said to have suffered cirrhosis of the liver caused by excessive alcohol intake. Relatives say that according to the pathologist, Etwaroo had five bumps on the head that could have been as a result of a gun butt or his banging of his head on the wall. However, there was no visible damage to the skull nor was there any sign of a seizure.
The dead man's eldest sister, Bhagwattie said that she had nothing to gain from denying that her brother was an alcoholic but she cannot see him banging his own head against the wall.She added that the pathologist was of the opinion that when an alcoholic does not get access to alcohol he can become schizophrenic.
This, she said, can account for the behaviour of her brother that was described by the police as 'mad'.
The woman contended that after the postmortem report was completed, it was only then that the police offered an explanation for her brother's death. They reportedly told the family that another inmate in another cell had confirmed that Etwaroo was banging his head on the concrete wall.
"But I want to know how dem didn't know all de time wha happen to he. Now dem seying dat he bang he head to de wall. First deh sey how he de mad and he run off and all kind thing now when dem hear de report dem mek up a story," Bhagwattie told Kaieteur News yesterday.
She said that she was baffled about the comment made by the inmate that he heard Etwaroo banging his head to the wall since the cells are partitioned by concrete walls right up and are supposed to be sound proof.She added that the inspector said that when her brother was 'running off' they could not take him for a medical since they would have had to get permission from the magistrate after his court appearance.
"He sey dat if de man mad only de magistrate could decide fuh send he to de mad house."
According to her, officials at the station should have being able to determine who was on duty and who was in charge of the detainee at the time of his death. "We need a full investigation into this because the post mortem has proven that something is wrong," the woman said.
Thirty-eight-year-old Etwaroo was found dead in his cell at around 6:00 hrs on Monday morning while in custody at the La Grange Police Station on allegations that he stole two gold rings. Etwaroo, of Lot 5 Independence Street, La Grange, West Bank Demerara was discovered dead when his wife went to the station to take some clothing for him to prepare for a court appearance.
The man's sister told Kaieteur News that the family was informed by the police that they were preparing to take Etwaroo to the Leonora Magistrate's Court to answer the charge. However, relatives contend that the man was already dead when a check at the court revealed that he was never charged and there was no matter there for him. His wife Angela asserted that she was rudely told that her husband was dead; after which she was led to the back of the lockups to the last cell. There she saw the lifeless body of Etwaroo lying half naked with filth splattered all over the cell.
"My husband was a strong man. He had no sickness or nothing and he never trouble with mental problems and den dem telling we dat dem ain't even know when he dead," Angela said.
"De inspector sey he bin hallowering whole night and dem ain't really know when he dead."
The man, who was a grass-cutter, fathered a 10-year-old son and a nine-year-old daughter. He leaves to mourn his wife, children, two brothers and two sisters.
________
The Mohammed Shafeek Case:
"An inquest was conducted in the case of Mohammed Shafeek, who died in the Brickdam police lockup in September 2000. Although initial police reports had indicated that Shafeek might have been beaten by other prisoners, an investigation revealed that Shafeek was beaten by the Venezuelan crew of a ship that had since left the country, and that the police had arrested him for disorderly conduct. The Police Commissioner stated that Shafeek should have been hospitalized instead of being placed in a prison cell, that procedures would be instituted in the future to ensure that injured prisoners were hospitalized, and that disciplinary action would be taken against police officers involved. In February a witness testified that "two policemen held him (Shafeek) by his hands and feet and threw him against a concrete wall in the lockup." The witness was rearrested 2 weeks after being released, and he said that during this incarceration, TSS officers held a gun to his head and threatened to kill him if he spoke about Shafeek's death. In March the inquest was postponed due to problems in jury member attendance. On November 27, the inquest jury unanimously ruled that the GPF should be held criminally responsible for Shafeek's death; at year's end, the police had filed a challenge against the inquest ruling."

— Country Reports on Human Rights Practices-2001; released by the Bureau of Democracy, Human Rights, and Labor on March 4, 2002
"On September 3, Mohammed Shafeek died in the Brickdam police lockup. An autopsy revealed that Shafeek was beaten all over his body; his skull and neck were fractured. The Home Affairs Minister initially announced that police reports indicated that Shafeek might have been beaten by other prisoners. However, the Police Commissioner subsequently announced on September 28 that an investigation revealed that Shafeek was beaten by the Venezuelan crew of a ship that had since left the country, and that the police had arrested him for disorderly conduct. The commissioner added that Shafeek should have been hospitalized instead of being placed in a prison cell, and that procedures would be instituted in the future to ensure that injured prisoners were hospitalized. On October 4, the police submitted a 20-page report to the DPP. The report noted that disciplinary action would be taken against police officers involved, the report said. An inquest into the death is now underway.
—From "US human rights report cites cops again for extra-judicial killings," in Stabroek News, March 12, 2001

_________
Inquest finds Police Criminally Concerned with Shafeek Death
from Guyana Chronicle
November 28, 2001

A THREE-MAN jury, sitting with Coroner Cecil Sullivan, yesterday returned a unanimous verdict that the Police were criminally concerned with the death of Mohammed Shafeek, the fisherman who died in custody during the September 3, 2000 weekend.
The dead man was in the lock-ups at Brickdam Police Station after being arrested for loitering on a wharf, also in Georgetown.
After listening to a 15 minutes summation by Mr. Sullivan, the jurors concluded that Police Lance Corporal Playter and others were implicated in the unlawful killing. Earlier, attorney-at-law Mr. Sanjeev Datadin, representing the Police, had urged the tribunal to disregard the testimony of the witness Nigel McKenzie, saying he, too, was a suspect in the case, who was being detained at the same time.
Relatives of the deceased said they were pleased at the outcome but Playter signed deeply and looked distressed as it was made known. Shafeek's widow, Seeta Nauth said she was overjoyed and satisified that the inquest has paved the way for justice to take its course. Other attorney-at-law Mr. Basil Williams, who was looking into the interest of the victim's family, acknowledged some relief at this stage.
He declared that the ball is now in the Court of the Director of Public Prosecutions who must decide whether to institute charges against members of the Police Force who have been found criminally liable.

The Brickdam Lock-ups Death
WHAT THE PEOPLE SAY
By Miranda LaRose
from Stabroek News
October 2, 2000
How did fisherman Mohamed Shafeek of Canal Number one die is what is on the minds of many Guyanese who have heard the stories surrounding his demise. Shafeek was arrested for loitering during the early hours of September 2. He was taken to the Brickdam Police station where he died. The circumstances surrounding his death are still unclear as there are conflicting reports as to how he met his demise. Shafeek has left to mourn his wife and two children ages, 14 and five. We asked the man/woman-in-the-street for their reaction to his death in the lock-ups and the police's investigations and findings. Their views follow:
Reshma Singh - private sector employee: `I am joining with those calling for an independent investigation into the death of Mohamed Shafeek as I am at this time, too, questioning all the stories put out by the police and the government on this matter. The stories which keep changing every day become more and more confusing. I do not know what to believe. First, there is the claim that he was arrested for loitering under the influence of alcohol, then there was the claim that two prisoners under the influence of drugs beat him in a cell, after that we heard that he was beaten by Venezuelans. The police themselves should be blamed for his death. If they picked up a badly beaten man for loitering the obvious thing would have been to take him to the hospital.'
Anthony Ishmael - stevedore: `This is not the first time that people go into the lock-ups alive and come out dead or they go into the lock-ups and then disappear. Now I think is the right time to call on government to mount an independent enquiry into the death of Mohamed Shafeek and probably others who have suffered similar fates. Police brutality is at a peak. We either put a stop to it now or let it continue. It is embarrassing that we are getting different versions of the story from responsible people. Even a little child would not believe that the Venezuelan sailors beat up the man. This story needs to be investigated by private individuals and government should set up a commission with persons of integrity to do so. This story has left me with more questions than answers.'
Mohamed H. Rafeek - security guard: `I want a private investigation into the circumstances leading to the death of Mohamed Shafeek. A similar story like this should not be allowed to happen again in our police force under any circumstances. The policemen who arrested this man should be indicted and be removed from the Police Force. If he was picked up in an unstable condition after being beaten as the Police Commissioner [Laurie Lewis] claims it is only logical that he should have been taken to the hospital. There are others loitering on the streets in broad daylight and at nights, why is it that the police ignore them. The police took an oath to protect and serve, not to inspire lack of trust and confidence in them.'
Lorraine Jones - housewife: `I do not believe that the police have conducted any enquiry into this matter and they are hiding vital information which will not be made public... not by the police at least. I believe that a woman has lost her husband and the children their father for no apparent reason. That is very unfortunate because I am a wife and a mother and I could imagine what the family feels. Someone must be held accountable. I do not believe that we will get the truth from the police and because of this an independent enquiry is needed. In this case I feel that government should compensate the wife and her children for the loss of a breadwinner and a loved one. If as it was said that he was badly beaten, he should have been taken to the hospital.'
Mohamed R. Ali - clerk: `At one time you heard he was picked up at around parliament buildings, another time you heard it was under a wharf; at one time you heard he was loitering and drunk and another time that he was badly beaten by Venezuelan sailors. What must I believe? I feel that justice could be meted out if only we get to the bottom of the story. But we cannot depend on the police to investigate themselves so that we have to have an enquiry by persons of good character. Also what has become of the witness who was reported to have seen the police beating the man in the lock-ups? What has become of him? The mother is now looking for her son. This calls for another investigation as well.'
Clarence Jones - carpenter: `There is need for justice for this man and his wife who is denied a breadwinner. If left to the police alone the family will get no justice. So I would suggest that an enquiry independent of the police should be held. If I am to tell anyone about the story I cannot say what is the cause because there are so many different versions of how he died. All the versions coming out of the press are making no sense to me. It is all confusing. I would like an independent enquiry and someone to be held accountable simply because it could happen to me, my brother or my friend. It could also clear the bad name which the police are getting out of it and help to restore some confidence in the police.'
Jitlall - private sector employee: `The police are taking advantage of many people today. If you have money and probably influence and good standing you might get off but not all of good standing are that lucky either. Anyway because of what has happened to Shafeek I think that an independent investigation should be held. My belief is that the police are trying to cover up a crime they themselves committed and are making a bad job of it because there are people who know the truth. When an independent body is set up to investigate people knowing the truth should come forward to give evidence. The fact that they took a badly beaten man to the lock-ups instead of the hospital is cause for concern in itself.'
Sheik Khan - student: `This story is a sad one. The man has left behind his wife and small children. To me there was no reason for the fisherman to die. In the first place there was no reason to place him in the lock-ups either, especially if he was badly beaten. The police have to be held responsible for what has happened. They should have taken him to the hospital. That is what I cannot understand. Government should appoint a commission of enquiry to investigate what took place. I feel sorry for the woman and her children. Government should compensate the family for his death.'
Ralph Khan - private sector employee: `I think the police investigators investigating the case should have investigated thoroughly what took place. I do not believe that what has been revealed so far in the press is what actually took place. Because I know that many feel like I do, I think that this case needs to be investigated independently of the police. We cannot put the police to investigate the police. If the man was beaten regardless by who... Venezuelans, Surinamese or Japanese, the police had a right to let him seek medical treatment or they had the right to take him to the hospital. The police are there to serve and protect.'
___________