Editor's Note:
The Guyana Police Force has, since the early 1970s, been regarded as a state organization with police officers who have breached the law in the gravest of ways possible. They have killed either civilian or alleged criminal under very questionable circumstances; they have, to state it precisely, engaged in extra-judicial killings. Despite the administration in the office of government, despite the decade, these have continued. In the mid-to-late 1990s, certain police members from the elite Target Special Squad ("Black Clothes" police), became enforcers for a US Immigration officer stationed at the US Embassy in Guyana, who engaged in the corruption of granting US visas in exchange for money.
Thereafter, the denouncement of police extra-judicial killings (especially of primarily Black or Afro-Guyanese men), has only increased. In fact, one of the complaints given by those who support the merge of essentially Black-directed criminal violence and pseudo-politics emanating from a section of besieged Buxton, is that this "resistance" is partially fueled in opposition to police extra-judicial killings. Whether this is right or not, what is unquestionably right is that everyone regardless of race should oppose all forms of extra-judicial killings. For those who wish to get more information on police killings, please contact the Guyana Human Rights Association for some of its reports such as "Ambivalent About Violence: A report of fatal shootings by the police in Guyana."
In this page herein, there are links and sub-pages regarding the issue of questionable police killings. We begin with a listing done by the Guyana Human Rights Association of people who died in questionable circumstances at the hands of the police since 1980. We have added three more names; Yohance Douglas, 17, a student of the University of Guyana, was shot and killed by police on March 1st, 2003, while travelling with friends to a basketball game; Kellawan Etwaroo, who was killed by police on or about July 5, 2004, at the La Grange Police Station, West Bank Demerara, and Carl Abrams, who was killed by a constable in Nabacalis on November 13, 2005. Others who have died included Mohammed Shafeek (who died at Brickdam police station) , Nandkumar Latchman ( who died in the police lock-up at Whim, Berbice). and Rocky Anthony Brunoanish who died on June 8, 2001 while in the Aurora Police Station lockup. He died of a fractured skull and hemorrhaging from a severe beating. Prior to his death, Brunoanish reportedly asked for medical attention to no avail.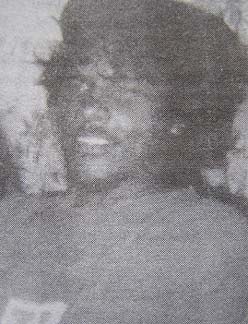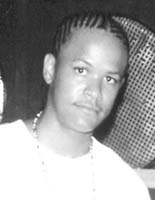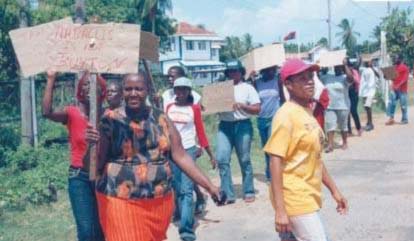 Left, Kellewan Etwaroo, found dead in police lock-up; center, Carl Abrams, shot and killed by a police constable; right, protestors outside the Cove and John police station after Abrams was killed. (Images from various newspapers, Guyana).
____________________________________
Eighteen died in police custody since 1980—GHRA

Condition of lock-ups seen as major factor in violence. Eighteen persons have been confirmed as having died in police custody since 1980, according to the Guyana Human Rights Association (GHRA).
In its report -- 'Ambivalent About Violence: A report of fatal shootings by the police in Guyana' -- released last week, the GHRA stated that the conditions of the police lock-ups were a major contributory factor to the culture of police violence in Guyana.
The report said while the Brickdam lock-ups, as the largest such facility had attracted the most attention, other lock-ups were of a similar unacceptable standard. Of the 18 deaths recorded, six were at Brickdam.
The GHRA said other deaths occurred at the Beterverwagting Police Station, CID Headquarters, Kitty, Leonora, Number 51 Village Berbice, Port Kaituma, Vigilance, and Whim lock-ups.
The report also gave an analysis of the killing of 239 suspects by police between 1980-2001.
A perusal of the report showed that the routine claim by police of killing a suspect after being attacked with a cutlass dated back to 1980, one year after the first special squad in the Guyana Police Force surfaced.
The report said that over the years, beating a confession out of detained persons has been a routine form of police detection work. According to evidence substantiated by lawyers, the report said, people who did not have lawyers were almost certain to be beaten, thus many poor people suffered disproportionately in this regard.
GHRA found that numerous statements from persons who had passed through the lock-ups attested to filthy and insanitary conditions; overcrowding; lack of adequate light and air; the presence of minors; high levels of violence practised by some detainees on others; and sexual assaults over the years.
The report said control of the lock-ups often passed into the hands of hardened detainees who sustained a reign of terror over less experienced inmates.
"They assigned cells, commandeered food sent in to prisoners, stole clothes, forced others to fan them, and used prisoners as footstools to look through the windows for long periods. One man with no criminal record had his nose fractured within 15 minutes of entering the lock-ups," the report stated.
The GHRA declared that the awful experience of conditions of the lock-ups was aggravated by slow court procedures. "Most magistrates pay no attention to the degrading conditions to which suspects appearing before them are subject."
Notorious case
One notorious case listed by the GHRA in the report of a death in police custody was that of 33-year-old Ramkission Saymar in February 1982.
The report said Saymar was arrested after being detained on suspicion of dealing in stolen car parts. The suspect's family was deceived into believing he was in good health when in fact he had lost the use of his hands and could not walk, the report said.
It continued: "After Saymar was dead, his body was propped up in the charge room as an attempt was made to deceive the family into thinking he was still alive, and that they should remove him to the hospital. The post-mortem report, read out in court, stated that the body of Saymar had multiple abrasions on both knees, elbows, left skin and back. There were large haematoma on his back and buttocks, forehead and upper lip and both insteps. The seventh and eighth ribs on the left and fourth and fifth ribs on the right were fractured. There was a lacerated wound on his tongue. There was hemorrhage and congestion of the lungs."
GHRA said a coroner's jury in April 1985 found that Saymar was murdered by a person or persons unknown, and made no recommendation to charge anyone.
Some other cases contained in the report were:
* 1989 -- Haribans and his wife, Halima, arrested by the police and subsequently died from poisoning.
* 1994 -- Shivnarine Dalchand of Cane Grove, arrested by the police during a drug raid. Dalchand subsequently died while in police custody. The police claimed that Dalchand died by drowning while attempting to escape.
* 1996 -- David Kennedy, 25-year-old captain of the hospital boat of Bartica, died in the lock-ups from injuries after allegedly being beaten by the police in the Bartica Police Station.
* 1999 -- Franz Britton, also known as 'Collie', arrested by police and detained in the Brickdam lock-ups. Police maintained he was released, but relatives claimed they have not seen him since his detention.
* 2000 -- Mohamed Shafeek, 47-year-old fish vendor of Number One Canal Polder, West Bank Demerara, brutally murdered while in police custody. According to the post-mortem, Shafeek died from multiple injuries, haemorrhage of the brain and fracture of the skull and neck. Shafeek's relatives stated his body carried heavy bruises all over his chest and back, his right wrist was broken, his hips badly bruised, his spinal cord had been severed, his neck and skull fractured, and his neck carried a puncture mark. An inquest found the police to be criminally liable for his death. Early in 2002, this verdict was quashed by a High Court order.
Of the 239 deaths recorded by the GHRA during the period under review, police justified the vast majority on the grounds of: "wanted by the police," "escaped from custody", "resisting arrest." "Self defence" was often invoked in reference to attacks with a cutlass, even in the most unlikely circumstances, GHRA stated.
The report listed Samuel Mc Phoy as being killed by the police in 1980 after he allegedly attacked them with a cutlass.
Some of the cases over the years listed by the GHRA include:
1983 -- Denzie Newton, shot and killed in Morawhanna, North West District, after he allegedly attacked one of the policemen in an armed posse.
Franz Layne, 24, shot and killed at Den Amstel, West Coast Demerara, as he was allegedly attempting an armed robbery. It was alleged that the police wanted Shepherd for some time.
1984 -- Percival Thompson, then vice-president Hamilton Green's bodyguard, shot to death after allegedly attacking a policeman with a knife when he intervened in a brawl involving policemen.
Frank Harris, 26, and Compton Tucker, 19, two remand prisoners, were shot dead by police who claimed they attacked them with sharpened forks and spoon handles.
1985 -- Levi Hetimyer, 16, and Warren Barrow, 14, shot by the police on the sea wall. Police claimed they attacked them with a pistol, screwdriver, and knife.
1986 -- Frank Kowlessar, shot to death in the compound of Brickdam Police Station. It is alleged that Kowlessar attacked a civilian with a cutlass then turned on the police when they attempted to intervene.
1988 -- Daniel Codrington, 21, reportedly killed during a shoot-out with the police who claimed that he lived in the cemetery and was responsible for a number of robberies.
1989 -- Steve Lewis, shot to death after police claimed he fired on them.
1990 -- Andrew Azore, wanted for a series of robberies, fatally shot when he allegedly attacked members of the Quick Reaction Group. According to a police report, Azore had earlier attacked and wounded a man in the neck and abdomen.
1991 -- Patrick Sookram, 25, of Vigilance, East Coast Demerara, shot to death on Good Friday. Eyewitnesses stated that a well-known policeman allegedly shot Sookram twice in the head while he was walking on the dam, while a crowd of about 100 persons looked on.
1992 -- Lester Cornell, shot dead following a confrontation with the police on a dam aback of South Ruimveldt. Police alleged that in attempting to escape, Cornell whipped out a cutlass and attacked one of the officers who opened fire.
1993 -- Clebert Sampson, escaped prisoner, reportedly shot dead in the Mazaruni area while another escapee, Charles Lewis, was seriously wounded. The police stated they were shot when they attacked policemen with cutlasses.
1994 -- Shawn Reynolds of Princes Street, reportedly shot dead after he snatched a handbag from a city businesswoman.
1995 -- Gary Stanford, shot dead in the vicinity of Albouystown. According to the police, Stanford had been charged along with others for the shooting of a truck driver. He was seen cycling in Albouystown by a policeman who challenged him but Stanford resisted arrest and drew a cutlass from his waist and attacked the policeman.
1996 -- Mark Smith, 30, wanted for questioning into robberies in South Ruimveldt, shot dead after he allegedly confronted the police who later found a 9 mm automatic gun and 15 rounds of ammunition.
1997 -- Adam Hescott, 22, of La Penitence, allegedly shot in the head and chest by a policeman. Hescott had escaped from the Camp Street prison, was re-arrested and was being taken back to prison. Relatives of Hescott and many residents in the area witnessed the shooting.
1998 -- Victor Bourne, taxi driver of Roxanne Burnham Gardens, shot and killed in bed by a party of policemen. The police alleged that Bourne was a wanted man. Relevant papers to start the inquest went missing after the chief magistrate's office was vandalised.
1999 -- Colin Mc Gregor, of Number 68 Village Corentyne, fatally shot when he opened the door to his house. According to reports, Mc Gregor's body was taken away by the police and no relatives allowed to witness the post-mortem.
2000 -- Shawn Nedd, 29, of Campbellville Housing Scheme, fatally shot. Nedd's mother reported that he was picking eddo leaves in an alley when the police approached him. He was ordered into a police vehicle where he was shot. Eusi Kwayana of the WPA filed a private criminal charge against a policeman. The Director of Public Prosecutions discontinued this charge.
2001 -- Brian King, 33, of Princes and Smythe streets, allegedly shot in the mouth by police who claimed he had attacked them with a cutlass during an arrest. (Andrew Richards) (see SN 202/23/2001).
2003: Yohance Douglas, 17, a student of the University of Guyana, was shot and killed by police on March 1st, 2003, while travelling with three of his friends at the corner of Sheriff and Bonasika streets, Section 'K' Campbellville, Georgetown, as they headed for a game of basketball. The police believed the Guyanese youths for gunmen, and fatally opened fired resulting in the death of Douglas. (For more, see Yohance Douglas page below.)
2004: Kellawan Etwaroo, 38, a grass-cutter of Independence Street, La Grange, West Bank Demerara, was found dead in his cell on July 5, 2004. When his wife was taken to see the body, he was found on his stomach, blood coming from his mouth and feces covering the lower part of his body. The police claimed he hit his head and died. The autopsy showed that he died due to hemorrage suffered. Mr. Etwaroo was taken into the lock-up while drunk, and on allegations that he stole two gold rings.
2005: Carl Abrams, 24, a disc jockey, was shot and killed in Nabacalis by a police constable in what is still a disputed case, on Novermber 13, 2005. Villagers believe the policeman went to rob Abrams (he had robbed another villager the previous night), and shot him in the stomach as he sat on a bench in front of a friend's yard. The police report on November 15, stated that Abrams fired at the cop (and another man) who had come to the aid of another man runing from Abrams. Thereafter, the policeman returened fire. But the police has not been able to produce any weapon used by Abrams.
_____________________________________
Allegations of Police brutality should be investigated—President Stresses

from Guyana Chronicle
January 12, 2002

"(The allegations) should be investigated...there should be an inquest if required, and then whatever comes out of the inquest we proceed with that"—President Bharrat Jagdeo
PRESIDENT Bharrat Jagdeo yesterday reiterated that allegations of Police brutality and extra-judicial killings should be investigated and inquests held if required.
Noting recent allegations about Police brutality and extra-judicial killings, he told a news conference, "my position is that they should be investigated, that there should be an inquest if required, and then whatever comes out of the inquest we proceed with that."
The main Opposition People's National Congress Reform (PNC/R), Thursday said there was an "unacceptably high incidence of extra-judicial killings by the Police" and claimed it has become quite clear that the public cannot rely on or trust the Police to investigate their own. Mr. Raphael Trotman told a news conference at the party's Congress Place headquarters in Georgetown that in almost every case of extra-judicial killing, the Police claimed they would be mounting an investigation. He charged, "either nothing further is heard or the matter is alleged to have been referred to the office of the Director of Public Prosecution (DPP)" and that is the end of the matter.
The lawyer declared that the office of the DPP has "become a funeral parlour where cases are indirectly buried without the benefit of a clergy". President Jagdeo yesterday said what was worrying was that Policemen are tried even before they have a chance to give their side of the story.
"I don't have a problem with an inquest and the investigations being done but as soon as it happens you already have a trial. They (a section of the public) don't know the circumstances under which the Police have had to use force in some cases...they simply come to the conclusion that once someone dies, it's extra judicial killings," Mr. Jagdeo contended. The President said he has observed that in about 80 per cent of the cases of alleged extra-judicial killings and Police brutality, "it becomes either a political case, someone with an axe to grind or some media personality fulfilling his megalomaniac ego".
He expressed disappointment that Trotman, at the PNC/R news conference, sought to distort a statement he made on alleged extra-judicial killings. "I am disappointed that Trotman, who is a young politician, would seek to distort me based on an interview that I gave to (the media)...," President Jagdeo said.
Trotman claimed the President had "admitted that these were political killings" and that this has given fuel to those who have alleged that the killings have the political purpose of terrorising the Afro-Guyanese community and reducing its birthrate by killing young males at the height of their virility. But Information Liaison to the President, Mr. Robert Persaud, in a statement Thursday afternoon, said the allegation by Trotman was "an act of gross misrepresentation of the President's comment on the matter".
Persaud said that the President, immediately after swearing-in former Chancellor of the Judiciary, Mr. Cecil Kennard as the new Chairman of the Police Complaints Authority on Monday, was asked by a member of the media to respond to charges and allegations of the "extra-judicial killings" by members of the Police Force. "To this question, His Excellency responded that many of the charges of `extra-judicial' killings are politically motivated," Persaud said.
"The President further explained that his Government would not condone any illegal action and abuse of authority by members of the Police Force," he added.
"It is disappointing that Mr. Trotman would seek to enhance his political fortunes by resorting to misrepresentation of a simple and clear statement by the Head of State," the Office of the President statement said.
President Jagdeo yesterday referred to the case of mini-bus driver Brian King, who was reportedly shot in the mouth by a Policeman and died about a month later.
"...it's only subsequently that I learnt from a Police report that he (King) had an altercation (with the Police), and people in the community saw that he was shot in a situation of confrontation and this man was in the hospital for (some 16 days)," Mr. Jagdeo said. He said his initial impression when he saw a television report was that this "had suddenly happened, just now, 15 minutes ago..."
"...the way it was shown on television (was like) the Police just walked up and shot (King) in his mouth," he said.
The President, however, made it clear that he does not have a problem with an investigation into this case. He said the "story should be presented in its proper perspective and then people will understand it". The President said he is not going to condone this type of action if it takes place, referring to extra-judicial killings and Police brutality. He, however, pointed out that Policemen operate in very difficult circumstances. He noted that Policemen put their lives at risk when they go out on duty, taking into consideration the types of sophisticated weapons the criminals use in robberies.

"When the Policemen go out there they put their lives at risk for all of us...so please don't try them before the actual trial takes place," he urged.

Opposition and PNC/R Leader, Mr. Desmond Hoyte, at the Thursday news conference, charged that alleged extra-judicial killings have become so alarming in Guyana that many people who were silent before are beginning to take note now. "...what we need to do is to prod more and more people into action, into protesting and into internationalising the issue, embarrassing the Government and embarrassing the Police Force, and I think the Government knows that the public is outraged at what is happening in this particular area of activity," he said.

He accused the Police of shooting and killing people within a certain age range, "young people...people who are at that stage of their life who are very reproductive; and those who are being killed, let's face it, are Afro-Guyanese."
Hoyte claimed the killings are not being done by the vast majority of policemen but by a "specially selected few".
He called for a mechanism where an investigation (inquiry) can be done by an agency other than the Police Force because "there has not been a single case where the Police have investigated a killing which has led to a Policeman being charged, much less convicted".

Trotman said the PNC/R had hoped that with the appointment of the new Commissioner of Police, there would have been a pause in "these unlawful killings", but that has not happened.
______________________
Extra-Judicial Killings: Symptom or Consequence of a Violent Society?
By Mike McCormack
Stabroek News
March 30, 2003

Extra Judicial Executions (EJEs) have been a feature of life in Guyana since the 80s, though they have received particular attention in recent times. These EJEs were monitored over the years by the Guyana Human Rights Association which last year issued a comprehensive report on the topic.
In a effort to shed some light on the matter we asked Mr Mike McCormack who has been involved in human rights campaigning in Guyana and further afield for many years and who is currently Co-President of the Guyana Human Rights Association to write an article sketching the position over the years and giving some analysis of this phenomenon, which has also become a major problem in another Caribbean territory, Jamaica.
In November 1985 Levi Hetymeier and Warren Barrow were shot dead by three policemen at the sea-wall. In their defence the policemen claimed to have been attacked by two men "armed with pistols, screw-driver and knife". It turned out that Barrow was 14-years old and Hetymeier 16-years old. The Police Commissioner deemed calls for an inquest into the circumstances "irresponsible", and went on to remark that any 'responsible enquiry' would vindicate his belief that his men acted properly. No such inquiry was ever held. Virtually no voices were raised in protest. The two boys were buried in unmarked graves in La Repentir cemetery. And that was the end of the story.
Eighteen years later the death of Yohance Douglas, a 17-year old shot by a unit of four policemen in broad daylight in the company of three friends created a furore, mobilized thousands in protests against extra-judicial killings, forced unprecedented action from the police and led to calls for independent international intervention.
What happened in the intervening years to propel extra-judicial killings by the police to such prominence? In this article I shall attempt to identify key factors that help explain this transition from routine acceptance to widespread indignation.
Three categories of factors need to be taken into account, firstly, conditions within the society as a whole; secondly, factors internal to the Guyana Police Force (GPF) and, thirdly, the international climate with respect to extra-judicial executions.
From State Control to Market Forces
The most influential factor in changed responses to extra-judicial killings is the more liberal atmosphere in the society. In 1985 when Hetymeier and Barrow were shot, media outlets were either State controlled or starved of access to paper. Television had not yet arrived in Guyana. Information did not circulate freely in the society. Unfavourable reporting on the Government carried a predictable price. At the low end, the bad news would attract abuse for the State press, at the high end, the price could involve libel suits, loss of jobs or other effective deterrents.
Shootings by the police fell into the category of very bad news. The Guyana Human Rights Association was accused in 1986 of 'furthering its own ends', 'venting its spleen', and being 'trouble-makers' by publishing 'A Briefing on Police Violence' which was deemed a 'completely irresponsible accusation'. The then President gave the Guyana Police Force a 'vote of confidence' for 'blunting the efforts of the trouble-makers.' The Mirror, Stabroek News and the GHRA were all served with libel suits from the Director of Public Prosecutions and members of the Quick Reaction Squad.
The distinguished Indian economist Amartya Sen has commented that 'famine does not happen in democracies'. In other words when people are free to criticize, abuses are not allowed to fester until they reach crisis stage. Obviously this aphorism does not apply only to famine. Any abuse protected from criticism has the potential for crisis. In the decade of the 1980s, killings by the police fell into this category.
Shielded from public indignation, policemen who indulged in the use of excessive force could operate with impunity. The use of excessive force extended to violent treatment of detainees in police lock-ups with batons marked 'Speak The Truth'; sexual assaults by other detainees and members of the GPF; ducked in filthy toilets to the point of drowning, all of which occurred in over-crowded cells slimy from urine, awash with cockroaches, ants, rats and creeping insects. While Brickdam lock-up was consistently top of the notoriety league many others weren't far behind.
Understanding 'culture' as 'the way things are done', this combination of secrecy and produced a culture of violent policing. The ramifications of brutal policing were manifest during the 1980s by the number of cases thrown out of court because the only evidence the police could lead was a forced confession. Justice Barnwell commented after one such case "A voluntary confession is the best evidence...but in every confession something happens. I will not have it until rules are complied with. The police must understand the meaning of investigation, no police station is going to be a court."
It might be thought that the logical response to this judicial reaction would be to resort to better evidence-gathering procedures. The culture of violent policing, however, operated on a different logic. If the courts could not be relied on to convict known offenders, the police would take the law into their own hands. In the words of one member of the Target Special Squad, "If we send them to the courts they get off, better we send them to the cemetery." Later EJEs became a convenient way of closing unsolved files. The practice developed of announcing a man shot dead, such as Sean Williams in 1997, was wanted in relation to 25 reports of robbery under arms.
There have been few cases of police shooting armed criminals in the course of committing a crime. Since usually the police arrive on the scene only after the criminals have left, the majority of violent encounters with criminals occur on raids or ambushes. It is the behaviour of the elements in the GPF in set pieces of this nature, in which the police have the initiative and are in control, that shooting to kill is least defensible. While the likelihood of encountering armed criminals has risen steeply in the last year, this is not a new phenomenon.
The current crisis situation in which police officers are being attacked with deadly force without provocation, in part, is rooted in the expectation that given an opportunity, the police would kill rather than arrest. The other dimension of unprovoked killings of police officers seemingly is the status among criminals of those who have and haven't killed a policeman.
It is clear from numerous eye-witness statements that the primary intention of the police was to eliminate wanted persons. Time-worn excuses of being attacked by a cutlass-wielding assailant are no longer credible. Arresting persons wanted for serious crimes is becoming relatively remote.
A powerful factor, external to the GPF, encouraging the culture of violence is the practice of businessmen providing inducements, gifts and 'retainers to particular officers to get quick results after a robbery on their premises or their home. This pressure to cut corners led police on the payroll to terrorize employees first, then known criminals, beating as they go, until someone confesses. A Stabroek News article of November 13th 1990 exposed the fact that "very senior officials" are aware of the large sums businessmen pay to junior officers and are usually given part of the payment.
In this political environment which discouraged transparency, condoned corruption and overlooked violence, the creation of a squad within the GPF, enjoying immunity from normal oversight, was a logical step. The Impact Undercover Unit, created in July 1992, was just such a unit.
Probably more than any other single factor, the behaviour of the Impact Squad contributed to EJEs becoming a major issue. Under a headline "Impact Undercover Unit is Laurie's Secret Weapon" in Stabroek News of September 2 1992 Commissioner Laurie Lewis was quoted on the modus operandi of Impact, 'Sources ('underground informers') are not revealed to anyone not even the commanding officer who must trust his operatives' integrity...'. On the controversial subject of EJEs Commissioner Lewis denied the squad had a shoot-to-kill policy, but noted that policemen and women 'were only human' and entitled to defend themselves against potential killers. The article also noted that 'a great deal of its work is secret'.
The combination of a weak chain-of-command, consorting with criminals and a presumption that shootings to defend themselves will occur, was a recipe for lawlessness. A squad of the Impact type required high levels of self-discipline within a Police Force possessing rigorous standards and procedures. Unfortunately neither requirement was present.
The Impact Squad gave rise to the Target Special Squad or 'black clothes' which developed a reputation for eliminating rather than arresting wanted men, extorting money from criminals, acting as enforcers for crime rings, such as the United States visa racket, and, finally, involving itself in organized drug crime. The names of its leaders, Fraser and Merai, became synonymous with the practice of arbitrary or summary execution. The extent to which the Squad went out of control surfaced in recent months with the trial of Thomas Carroll, a former embassy staff member in the United States embassy who ran an extensive visa racket.
From 1995 as 'Impact' got into its stride, the numbers of people shot dead by the police started to rise sharply.
Scale Of The Problem
A documented 239 deaths by the Guyana Human Rights Association occurred in the twenty year period between 1980 and 2001, with the GHRA pointing out these are only the cases which have come to its attention. The possibility of lower than actual figures is more likely to apply to the period prior to the late 1980s when, as we have noted, information did not circulate as freely as after that period.
The distribution of deaths over the twenty year period saw 53% (126) of all fatal shootings occur between 1980-1992 and 47% (113) between 1993-2001, suggesting little difference in policies on EJEs between the two political administrations, the PNC in the former period and the PPP in the latter. In light of these figures, it is difficult to make a convincing case that EJEs have been used explicitly as a political tool by any political administration.
However, within the two periods, it is interesting to note that the first half of the PNC administration 1980-1985 had an average of 13 per year, while in the second half, under the Hoyte administration ('86-92), the average fell to slightly over 5 per year. A similar disparity occurred during the PPP administration. Between 1992-97(March), the Cheddi Jagan Presidency, numbers continued relatively low (9 per year), but under his successors rose sharply to close to 15 deaths per year. 1997 saw an all-time high of 28 deaths at the hands of the police.
Racial Profiling
The factor which finally made the difference between EJEs being lamented by fringe elements and becoming a central element in a political crisis, was race.
The case for racial profiling of Afro-Guyanese is that since 1980 78% of the persons shot were of Afro-Guyanese origin. Within that period from 1980-92, under an Afro-Guyanese administration 70% of victims were of Afro-Guyanese origin. During the later half of the period,(93-01), under an Indo-Guyanese administration, 88% of the victims were drawn from this group. While the latter figure is significantly higher than the former, both are so substantial as to undermine the argument that the problem is partisan. Neither the PNC nor the PPP administrations took effective measures to address EJEs. Rather than argue that EJEs are a politically-inspired mechanism of an Indo-Guyanese Government against Afro-Guyanese criminals, the figures would better support an argument that all Governments have been prepared to defend violent policing particularly in poor urban areas. A more persuasive argument to explain the statistics is based on class (economic and social factors), rather than on racial politics.
Apart from the fact that Afro- Guyanese deaths are high under all Administrations, three other factors complicate the charges of profiling. Firstly, the GPF is itself overwhelmingly Afro-Guyanese in make-up. Secondly, what little criminological research is available on Guyana points to 78% of criminal offenders being drawn from the Afro-Guyanese community. Since the prison population is also overwhelmingly Afro-Guyanese, to be consistent, profiling charges would also have to be levelled against the Judiciary. Finally, crime is largely an urban phenomenon in all parts of the world and the Afro- Guyanese population lives in the urban areas.
The same statistics used to argue for racial profiling, equally support charges of profiling 'urban' rather than 'rural' dwellers for EJEs.
Another statistic, this time from inside the world of violent policing, also throws doubt on racial profiling as an adequate explanation of EJEs. While actual numbers are much lower, of the 18 deaths which occurred in police custody since 1980, 66% were of Indo-Guyanese origin. This is an important statistic, since Indo-Guyanese comprise a far smaller percentage of the detained population, than Afro-Guyanese.
Deaths in police custody point to the violent nature of policing in Guyana. Most of the deaths in custody are the result of injuries sustained from extreme brutality and torture, suggesting cultural explanations - the way we do things - rather than political motivation as the main cause of killings by the police. Moreover, the violent culture within the GPF, which the society largely condoned, reflected a society in which violence in many forms is condoned.
International Standards
Following the upsurge of police death squads in Brazil, Argentina and Uruguay in the mid-80s, and later the scandalous practice of eliminating street children in Brazil, extra-judicial killings became a major issue of international human rights concern. International principles elaborated by the United Nations in 1989 reflected the extent of international concern and the rigorous standards to be observed by police forces across the globe.
These included the fact that exceptional circumstances such as internal political instability or public emergencies could not be invoked as justification of extra-legal, arbitrary or summary executions. All officers have the right to defy orders from superior officers or public authorities to carry out such acts. Independent commissions of inquiry shall be established where complaints are made about the adequacy, impartiality, lack of expertise, or the apparent existence of a pattern of abuse. Finally, in no circumstances, including a state of war, siege or other emergency shall blanket immunity from prosecution be granted to persons allegedly involved in extra-judicial executions.
Concerns of other Governments, particularly North American and European, over EJEs in Guyana, have been raised with the Government of Guyana as a matter of priority in recent years, reflecting an international consensus that EJEs are unacceptable. Non-governmental bodies such as Amnesty International have also criticised the Government of Guyana on a number of occasions for its inadequate response to this problem.
Measured by these standards, the casual treatment of extra-judicial killings by successive Guyanese governments and those responsible for the administration of justice, has been lamentable. Governments, especially the current one, merit severe criticism, even condemnation for defending elements in the GPF responsible for EJEs. This policy became particularly indefensible with respect to the Target Special Squad. Political protection for the minority of rogues in the GPF has exposed the majority of law-abiding officers to execution by the political/criminal elements. The count is 20 in the past twelve months.
Guyana Is A Violent Society
Concern for EJEs cannot be separated from the more general problem of a culture of violent policing. This in turn is a symptom of violence in the society in general, which has replaced respectful relations between citizens. While this is particularly true with respect to the political life of the society, violence has been a formative feature of the society going back to its roots in slavery and indentureship.
Our political culture - the way we do things politically - directly contributes to violence. A generation of Guyanese young people were trained in the use of arms in a plethora of militarized units - the Peoples' Militia, the National Service and youth organizations. None of this could be justified in terms of external threat. Political life is conducted with regular bouts of disrespect for law and order and violent confrontations with the Police Force and a high degree of slander, vulgarity and disrespect for personalities
We demonstrate a high level of tolerance for violence in domestic relations between parents and children; corporal punishment is still entrenched in our education system; violence towards criminals is acceptable to most Guyanese whose businesses are vulnerable to theft and looting; violence against women is extensively practiced; television violence and its impact on children raises few voices of concern, the appalling state of our prisons is considered just desserts and we cling to the death penalty for 'eye for an eye' reasons, more than for its proven success as a deterrent.
All of this has fostered a culture prone more to violence than to respect. That the Guyana Police Force should have been infected with the violence virus is not surprising to say the least. The general public have been encouraged not to respect members of the Force, who in turn have learnt to impose themselves on a situation in order to gain respect. Thus policing by force, rather than by service, accurately reflects the message the society - or more accurately, its leaders, - have been promoting for a long time.
Ambivalent About Violence
Guyanese society remains ambivalent about violence. Virtually every sector of Guyanese society, including religious sectors, find some form of violence acceptable. As long as all forms of violence are tolerated by some elements or other in civil society, it is illusory to expect the culture of violence within the police force to be fully eradicated. Moreover, for extra-judicial and arbitrary killings to disappear, the culture of violent policing which nurtures them must also disappear. This in turn requires a culture in the society which does not tolerate violence of any sort.
Reactions to violence by civil society have not been sustained, probably because they have not succeeded in moving beyond elites to generate broad-based momentum. No nexus has been successfully created between community-based committees protesting individual EJEs and broad-based initiatives of concern. Too frequently community-based efforts have been effectively smothered by party political alliances.
None of the above is intended to imply that the problem of EJEs should not be addressed decisively and urgently. What it does imply is that we cannot hope to lay all responsibility for violent policing at the feet of the GPF. A society largely gets the kind of policing it deserves, whether this be measured by standards, by resources or by oversight mechanisms. Measured by these criteria, it appears Guyanese are not serious about high standards of policing. There is no manifest urgency to resolve the anomaly by which we currently have no constitutionally guaranteed rights, which the police are required to respect. Nor, from a resources point of view, can we demand the Police Force operate more effectively, until policing is made an attractive and competitive career option.
Finally, as a society, we cannot exercise effective oversight, because we have no institution that brings together civilian, legal and police concerns about security and policing.
Successfully addressing EJEs, therefore, requires attention be paid to the broader picture and that civil society's advocacy goes beyond individual cases.
If as a society we are to atone for the deaths of Yohance Douglas and the hundreds before him who have died violent deaths the process involves a number of steps. Some of them have been suggested earlier. However, the first step must surely be as a society and as separate ethnic groups, as religious and trade union bodies, as political parties and as individuals to consign our ambiguity about violence to an unmarked grave, never to be re-visited.
___________________
GHRA Report Emphasises the Need for Reform of Police Execution Squad
from Stabroek News
February 22, 2002

Dear Editor,
I write to compliment the Guyana Human Rights As-sociation for finally adding weight to the debate on extra-judicial killings. Many commentators may want to seize on the facts garnered over twenty years and massage them to their advantage whilst others, may smart at the mention of days of old. It is good to know however that we can have a holistic view of this Frankenstein from several angles. For me, this represents a start in the right direction. It has been said that before God can deliver us, we must undeceive ourselves and this report appears to agree with this truism. The facts as confirmed by the GHRA report appropriately entitled "Ambivalent About Violence" shows that within the Guyana Police Force there is a unit operating above the law. This unit is constituted from time to time by different faces and characters. From the limited report in the Stabroek News, however, it is difficult to discern the precise causes of these killings and one would expect that at sometime soon we may see a breakdown of the circumstances, whether they were all due to the usual "man attacks armed police party with cutlass drawn from the waist", or some other incomprehensible reason. Interestingly also, the report does not appear to address disappearances, torture, and near death beatings. There is no doubt that every police force needs a unit or squad to address serious crime. Such a unit is expected at all times to be disciplined and to function very much like a SWAT team as exists in other nations.
Our teams, for whatever the reasons, have in the past, and moreso in the present, redefined their own roles and responsibilities becoming judge, jury and executioner. This is frightening and can only get worse. People are appalled not only at the fact that people are dying but moreover by the manner of their deaths. No one believes any longer the excuses and explanations given for the deaths. The police hierarchy ought as well to be very concerned about the functioning of ranks of this unit as ordinary members of the society. What happens for example if one of these persons desires to retire or resign, can he easily re-integrate into society and carry on a normal family life? I doubt it. In closing, I once again add my voice to the thousands of others and call for a thorough review of policing in Guyana leading to a redefining of the role of the Guyana Police Force and supporting services. We have the report of the British experts and suggestions from eminently qualified Guyanese to start with. The continued right of existence and methods of operation of the Black Clothes squad is more a symptom of the continuing disintegration of the state than we may care to acknowledge, and quite honestly is likely to continue until we manage to pull ourselves back from the edge of the precipice, or indeed tumble over. I do believe that the Police Force, like other institutions, has been attempting to hold the pieces together hoping and praying for the politicians to come up with answers and solutions quickly. For this they must be commended but not for allowing a mere handful to decide what that solution is.
Yours faithfully,
Raphael Trotman
____________________
Police killings have Alienated Force from Communities—Jusice for Jermaine Committee

From Stabroek News
September 1, 2003

Extra-judicial killings have caused communities to lose respect for the Guyana Police Force (GPF) which now needs to foster stronger ties with citizens while being held accountable for their actions.
This was among the observations submitted on Wednesday when Kenneth Chance of the Justice For Jermaine Committee (JJC) addressed members of the Disciplined Forces Com- mission of Enquiry (DFC). The Commission of Enquiry, which was set up by the National Assembly, has been mandated to review the operations of the Disciplinary Services. It is to give priority to its investigation of the operations of the Police Force, and will submit a report of its findings and recommendations to the Assembly.
Justice of Appeal Ian Chang is chairman of the Commission which also comprises former Attorney General Charles Ramson SC, former National Security Adviser, Brigadier (rtd) David Granger, attorney-at-law, Anil Nandlall and Irish human rights activist, Maggie Beirne. Speaking at the Conference Room of the Supreme Court Law Library, Chance said police had exercised scant regard for the civil rights of the citizenry, which he attributed to the lack of accountability in the force.
The Justice for Jermaine Committee (JJC) was set up following the police killing of an Albouystown resident, 20-year-old Jermaine Wilkinson. He said the police, acting on reports, kicked down doors and terrorised suspects and their families, who were often left too afraid to report the incident. He said he was subjected to such an experience when police, at about 10:00 pm kicked down his own door and shot at him, leaving his blind wife terrified.
Such instances, he said, could be avoided if communities had a better relationship with police. But he said the strained relationship was created by the extra-judicial killings committed by members of the force. Of his own community, Albouystown, he estimated the relationship with police to be fair, though he considered it had been adversely affected after the killing of Wilkinson. He said persons in the community did have some amount of confidence in the police, although the community was plagued by a criminal image. He explained that this image was as a result of the negative influences who settled in the ward, though he conceded that the area was also plagued by petty crime.
Chance considered that where communities had confidence in the police, law-abiding citizens would be unafraid to render assistance to the law enforcement authorities. As the situation was now, a stigma was attached to those persons who reported to the police with them being viewed as 'snitches' by their communities. In other instances persons terrified by the police failed to come forward as witnesses in criminal investigations. He recommended greater community involvement by the police, who needed to monitor such depressed areas, while also working to dissuade underprivileged youths from crime.
Chance also spoke out against extra-judicial killings and advocated that all police personnel implicated in such acts be charged and tried for their crimes. He cited the case of the policeman who was committed to stand trial for the death of Wilkinson. The officer was committed to stand trial for manslaughter, but has yet to be tried before a jury since the depositions from the Preliminary Inquiry had not been transmitted to the Office of the Director of Public Prosecutions.
In regard to the prison services, he considered that there were not enough attempts being made to separate hardcore criminals from those imprisoned for minor offences. By his estimate, persons were made criminals when introduced to the prison system, which allowed such association in the overcrowded prison system. He also suggested the implementation of a mechanism to allow for the proper reintegration of the prisoner into civilian life.
Meanwhile, Savitree Mohanlall, an Annandale woman who alleged that she was assaulted and her husband wrongly imprisoned by police, also testified before the commissioners on Wednesday. Mohanlall, who has since filed a lawsuit against the police force, recalled that the incident occurred on August 9 at about 3:30 pm when in the presence of several people, two police officers entered their premises seeking her husband, Mohanlall Ramcharran.
Mohanlall, whose left hand was heavily bandaged, told the commissioners that the officers said her husband was wanted by the sergeant at the Vigilance Police Station. After a scuffle her husband was then taken to the station and released 24 hours after on station bail. His wife acquired a medical certificate after being examined by a doctor and later went to the Vigilance Police Station to make a formal report.
Both she and her husband were later charged for their alleged actions during the incident, while she has received no information concerning the police investigations.Mohanlall recommended that there is need for police to treat people like civilians, rather than criminals, noting that other citizens could be treated in the same way as she was. Also testifying at the hearing was George James, who told the commissioners that nothing had come of a relative's death, which he believed was caused by a policeman. His relative was married to a policeman and was reported to have committed suicide in 1999. But he contended that she was shot by her husband and nothing had been done
____________________

Debate on Police Brutality, Killings

The People's National Congress/ REFORM (PNC/R) says that there is need for a full-fledged public debate on police brutality and police killings.
According to a release from the party, a Notice of Motion for a Parliamentary debate on this matter was submitted to the National Assembly by PNC/R Member of Parliament, Deborah Backer and was published on September 9, 2001.
"Since then, the PPP/C regime has delayed bringing up the Motion for debate. PNC/R demands that the regime stop stalling on this important subject and put the Motion on the Order Paper for early debate," the release stated.
The party's release referred to the incident on December 4 in which a policeman shot Jermaine Thomas five times in Leopold Street, Georgetown and the case on December 2 when a policeman shot Brian King of Smyth Street, Charlestown, in the mouth.
"In both cases," the release noted, "the victims were unarmed, and eyewitness accounts confirm that the shootings were wholly unjustified and unlawful."
The party said that the Police Commissioner "must be concerned about the fact that since 1993 at least 122 citizens have been gunned down or killed while in custody by police ranks."
The PNC/R is calling on the Police Commissioner "to show that he has the will and the strength to demand and impose an acceptable standard of professionalism and a proper respect for human rights."
The release observed also that on November 28, even as a Coroner's jury was returning a verdict implicating a policeman in the brutal and unlawful killing of Mohammed Shafeek while he was in police custody, the media were reporting another brutal killing of another citizen, Nandkumar Latchman on November 27 while he was in police custody at the Whim Police station. (SN Dec 10, 2001.)
____________________
Extra-Judicial Executions

(Stabroek News editorial)
Tuesday, November 22nd 2005
Perhaps the main reason put forward for their disaffection, at least initially, by those who support the `African resistance' was the Extra-Judicial Executions (EJEs) by the police of mainly young African Guyanese. It was on the face of it a legitimate reason but must be seen in context. The best known source for the relevant facts is the Report put out by the Guyana Human Rights Association (GHRA) in February 2002 captioned "Ambivalent About Violence: a Report on Fatal Shootings by the Police in Guyana 1980-2002". The conclusions reached in that report were as follows:
*Fatal shootings by the police recorded during the period under review show numbers for 1980-85 and 1995-200l to be equally high at 15 persons per annum, with the intervening decade experiencing lower figures at an average of 6 deaths annually.
*Of the total of 239 deaths recorded by the GHRA during the period under review, 185 (78%) were of Afro-Guyanese origin and 12% of Indo-Guyanese.
*Of the 18 deaths in police custody over the period, 12 (67%) were of Indo-Guyanese origin while 22% were of Afro-Guyanese origin.
*The information available does not justify sufficiently charges of racial profiling of Afro Guyanese with respect to shootings or Indo-Guyanese with respect to deaths in custody.
*105 deaths by shootings were recorded in the period 1995-200l.
*How many persons may have subsequently died from their wounds, following shootings by the police, is unknown.
* The failure to hold Coroner's Inquests constitutes the most important contributory factor to deaths by police shooting.
*Reports of systematic and extreme brutality in police-stations and outposts has reduced steadily over the past decade. However, isolated incidents of such brutality continue to occur too frequently.
*The vast majority of all shootings recorded in this Report were justified by the police on the grounds of "wanted by the Police", "escaped from custody", "resisting arrest", "self-defence" is often invoked in reference to attacks with a cutlass, even in the most unlikely circumstances.
*Societal reaction to violence in general has been ambivalent and selective, sending mixed messages to successive political administrations.
*A high percentage of Extra-Judicial Executions (EJEs) are carried out by special squads in the GPF which have operated under various names over the past twenty years.
*A free media in the past decade has led to more complete public information on EJEs and police excesses in general.
*No political administration has dealt successfully with the issue of excessive use of force.
*Both the Police Complaints Authority (PCA) and the Office of Professional Responsibility (OPR) have failed to curb EJEs or the larger problem of police brutality.
*External factors contributing to the failure of the GPF to resolve the problems internally include political interference and official ambivalence towards the problem, poor salaries and conditions, inadequate equipment and training, commercial inducements to resolve crime and inadequate support from the other arms of the administration of justice.
*The increase of police shootings in recent years parallels a proliferation of fire-arms in the society."
The GHRA made a number of recommendations which included the following:
"*The practice of holding of Coroner's inquests into every death by unnatural causes without delay should be re-instituted immediately.
*When the Director of Public Prosecutions (DPP) does not act promptly to implement the findings of inquests, victims should seek redress in international tribunals such as the Inter-American Human Rights Commission of the OAS and through the Optional Protocol of the UN Human Rights Committee.
*As a potential source of racial tension, the Government should act to eliminate extra-judicial executions and violence by the police.
* The licence of Special Squads in the GPF and other squads which operate outside of the normal command structures should be terminated immediately.
*The society in general needs to take unequivocal positions against all forms of violence as counter-productive and inter-related.
* Instruction on international standards pertaining to policing, especially Internal Rules with respect to the use of excessive force and firearms, must be incorporated into GPF Training Programmes.
* International procedures of the GPF with respect to the discharge of firearms should be enforced.
* Conditions for obtaining a firearm licence should be more stringent."
After describing the deaths over the period year by year, and referring to its own reports and press releases and the annual reports of the US State Department on Human Rights, the GHRA offered some further analysis, two sections of which are of particular relevance:
Race-Based Analysis of Police Shootings
Racial profiling implies that certain assumptions and motives of a racial nature are the main cause of disproportionate numbers of persons from one racial grouping suffering a particular consequence. In determining whether the figures presented above represent racial profiling by the GPF against Afro-Guyanese with respect to shootings and Indo-Guyanese in terms of death in custody, several considerations must be taken into account.
Firstly, distribution of fatal shootings occurred almost equally (53% and 47%) over the two party political administrations covered in the Report, rendering difficult the conclusion that EJEs were used as a political tool, by one administration more than another, (if indeed they were so used by either), or as a racial strategy by either. Secondly, the predominantly Afro-Guyanese composition of the GPF makes racial bias within the Force difficult to sustain with respect to the shootings. Thirdly, since crime is predominantly an urban phenomenon worldwide, it is not surprising that, in Guyana, the majority of persons involved in criminality, and for this reason in conflict with the police, will be of urban and therefore, of Afro-origin. That Guyana is no exception in this respect is, in fact, borne out by a study on criminality in Georgetown which states that "Africans comprised 78.2% of the offenders, East Indians 11.6% and others 10.2%. These percentages are consistent with those for police shootings over the period under review. In view of these statistics, if the charge of racial profiling is pursued against the GPF, similar conclusions would also have to be drawn with respect to the Judiciary since prison populations going back many years reveal a similar racial disparity. For the above reasons, a firm conclusion cannot be drawn that the figures presented in this Report represent racial profiling.
However, having said this, two features of fatal shootings need more analysis before the charge of racial profiling of Afro-Guyanese is dismissed completely. Firstly, unless the majority of crime in rural areas is also committed by Afro-Guyanese, the number of Afro-Guyanese deaths in rural areas needs explaining. Secondly, the majority of innocent persons shot by the police, to whom criminality explanations do not apply, are also of Afro-origin.
Moreover, a troubling charge of racial profiling of Indo-Guyanese with respect to deaths in custody, needs investigation. Firstly, the overall percentage of Indo-Guyanese in detention is significantly smaller than that of Afro-Guyanese. Secondly, the proportion of Indo-Guyanese deaths in custody is two-thirds higher than that of Afro-Guyanese deaths. Finally, the overwhelming majority of deaths in custody took place during the decade of the 80s when both the political administration and the GPF were dominated by Afro-Guyanese. Whether or not these factors make a case for profiling of Indo-Guyanese in custody, or Afro-Guyanese by fatal shooting, both racial communities do have specific reasons to be concerned about the consequences of excessive use of force.
Influence of Politically Motivated Violence
Relations between citizens and the GPF have been poisoned in recent years by politically-motivated violence, particularly following elections. Political disturbances, often incited by inflammatory talk-shows, have provoked arson, destruction of property and personal assaults. These incidents, in some cases, led to over-reaction by the GPF. Unfortunately such confrontations cannot be switched off as readily as they can be incited. Police experience of politically-motivated violence undoubtedly contributes to confrontational tactics being employed by the police in circumstances in which they may be unwarranted."
What all of that means is that the death squad existed since the time of Mr Burnham. The PPP government did not create it, though it can be blamed for allowing it to continue in existence. This was because promises of a specially trained police squad to deal with violent crime were never implemented and it may have felt that there was no other mechanism at hand. So it can be blamed, but the case cannot be made, as the intellectual authors of the African resistance suggested, that the police under this government deliberately set out to kill young Africans. It is at the very least far more complex than that.
After 2002 the death squad became less active and was eventually quietly disbanded. With the criminals running virtually unchecked with more dangerous weaponry private death squads were spawned. The proper solution continues to be a specially trained police squad that operates legally and professionally and the re-institution of inquests.