In A quest for pure joy, Elizabeth Deane-Hughes has switched careers from classy attorney to carefree artist, and feels she has finally found her destiny.


`Liz' , as she is popularly called, grew up in a family in which legal practice was one of the traditions. Her father, Senior Counsel Clarence Hughes, has been practising law for as long as she can remember while mom Christobel Hughes is a qualified Historian but chose to be a home maker. Liz's eldest brother, Nigel, followed in his father's footsteps and is currently one of the country's most popular attorneys, while other sibling Stewart, chose a career in the line of engineering.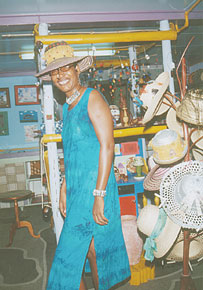 Liz studied law at a London University for five years and was admitted to the local bar when she returned in 1995. She practised until 2000, and hung up her robe when she discovered the need to become involved in the arts that was lying deep within her soul. While practising law, she found herself making wall hangings, and painting pictures on fabric and canvas, trying a hand at weaving and other art forms.

Soon after, she started working with a local big name designer, the late Robert Narain, and the two put on a show sometime around 2000. Liz's part of the show became the talk of the town, after the ladies who modelled some of her beaded jewellry were semi nude. "It was scandalous," she exclaimed, but that did not discourage her at all.

LIZ,wearing a necklace and hand-band made of pins, shows off other pieces of jewellery in the Calabash Shoppe.


At that time though, she started designing lamps, home accessories, furniture and wall hangings, and was encouraged by Mr. Gaskin of Gaskin and Jackson Jewellers to shift her focus in the direction of jewellery.

The woman said she had found pure joy out of simply realising her creative abilities and making beautiful pieces of art. "It's all about joy this time... Law, while it is lucrative, it doesn't have anything to do with joy," the artist said with a chuckle, during an interview with the Sunday Chronicle at her shop in Hadfield Street recently.

Liz said although she went through law school and had spent a few years in the career that really was not for her, she did not regret taking that journey. Law has made her a more disciplined person. "The discipline aspects of it has done me well... the discipline of doing something I did not want to do and getting through it was very good..." she said, taking off her hat to reveal her trademark short hair.

In the Calabash Gift Shoppe, which she runs, various pieces of artwork are on display. It was especially difficult to walk out on a particular pair of those earrings portraying the power of womanhood. A lot of the jewellery Liz has designed honours the strength of woman.

`Balancing woman' was the title written on the tag on the piece of silver jewellery, and Liz had explained earlier that the carved silver picture which takes the shape of a woman, is representative of what a real woman is - a real woman who balances being a mother, a wife, a career woman, a friend and the list goes on. This particular set of jewellery, Liz said, "promotes the maintenance of that balance so that that woman is representative of real womanhood."

According to her, "a woman has more power than society gives us... more than men will ever know".
Another interesting piece along this line was the `Dancing woman' collection, which portrays a woman, who appears to be pregnant, dancing from the powers within her womb.

Liz explained that she decided to design this particular set of jewellery after realising that many people are ignorant about the real purposes and powers of the womb. According to Liz, the womb is an area of power which, apart from being a reproductive organ, can be developed for metaphysical reasons.
Wearing this piece of jewellery is a way of saying, "I feel very powerful", but men can also patronise the series, as some have even attached different meanings to them.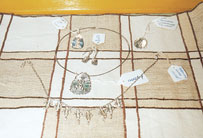 Seduced by bead work
As we continued the conversation about how she changed from lawyer, to artist, Liz explained that while working with Narain, she was lucky to have been one of the ten selected Caribbean artists to be given the Commonwealth Foundation Artist Grant in 2000, to Ghana, West Africa to study and practise various forms of fine art. Her main aim was to learn Kente and Ewe weaving, but during the programme she found a brand new interest.
(Some of the jewellery that depicts the power of women.)
Liz decided to take up the offer, but waited until two years after to actually begin the programme.
Among the many forms of art she was taught, was bead work, and Liz took a deeper interest in that aspect of the fine arts.

"I really went there to learn how to weave, but I got seduced by this bead (work)"

After completing the programme in Ghana, she returned just about when a Ghanian beads-master was hosting workshops in collaboration with Go-invest, to pass his skills to Guyanese and artists in the wider Caribbean. She too participated, started creating fresh pieces of her own and participating in local and Caribbean exhibitions, before opening Calabash Gift Shoppe on December 12, 2003.

Calabash Gift Shoppe is a cross-cultural shop, featuring designs that are representative of the various cultures that make up Guyana.

Liz said she decided to give the shop that name for the simple reason that the `Calabash' is a cross-cultural item, which is used by Africans, Indians, Chinese and many native cultures, for various purposes.
The Calabash Shoppe is quite an interesting place to visit, if you are a follower of the arts, and local, natural fashion. Many, many pieces of locally designed clothing and accessories can be found within those walls, and everything is impressive!

Entering the Calabash Gift Shoppe alone finds you happiness. That is if you were looking for natural treasures!

The `Play series' is a collection of multi-functional pieces of jewellery, which can either be worn as belt, necklace, a fun piece or you can even wrap it as a head band. This type of jewellery is made of wire, threads and skilfully designed with shells, beads and pieces of recycled glass.

Amazing enough, I even found earrings made out of newspaper and sprayed fabric. Liz said she started making those after she had nothing else to do with the ends of fabric left back from designing garments. There are also other collage earrings made of bauxite beads, recycled glass, local seeds, buck beads, newspaper, sea glass, fabric, sod, seeds, broken beads and the like.

Another series of necklaces and bangles made of pins are fast capturing the attention of fashion followers who step into the Calabash Shoppe. It will take someone some time to figure out that she's actually holding a necklace made of safety pins, unless she takes an extremely close look or is told so by Liz herself. Liz said she learned how to design the pin-jewellery while she was in Africa, and decided to offer the interesting craft to Guyanese and the Caribbean people.

She and partner Surinamese Arthur Thigm teamed up and are producing the sterling silver collection here, with each piece of jewellery, or each complete collection, carrying a message. Recycling, for Liz, is very important, and her actual involvement in recycling material is a way of showing the world the meaning of conservation.

"We are living in a world in which we are using too many resources in a rapid rate... It's just my way of saying to the world, "It ain't necessary for us to go down that road".

[Editor's Note: Article reproduced from the Chronicle, dated 11/15/2004. Photos by Delano Williams.)