Visit www.amyramdass.com or local bookstores for Goddess Thought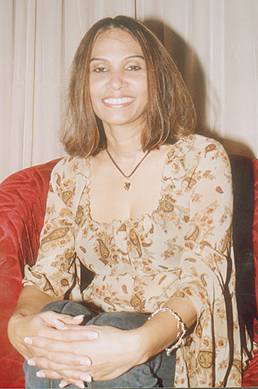 Poet, Amy Ramdass

"Books [wove] a magical flying carpet to secret worlds of intrigue, danger, romance, mystery, enchantment and wonder…it was poetry in the verbal and musical form that really enthralled and enticed…."
– Poet Amy Ramdass
Professional Guyanese accountant, Amy Ramdass, who lives in Canada, recently published a hefty book of poetry.
Goddess Thoughts: The Rest Are Mere Details, which was released late last year, is compact with more than 200 easy-to-read lyrical poems and rhyming thoughts on controversial subjects ranging from Big Bang, the Bible, the planets, celestial beings, ancient folklore and mythical gods, to love, family, friendship, nature and healing.
On a brief visit to Guyana during the 2005 Christmas season, Ms. Ramdass spoke with the Sunday Chronicle on her first book – the product of the sheltered life of a river girl.
Ramdass was born and bred at Susannah's Rust a village, 34 miles up the right bank of the Demerara River, Guyana. Her childhood was serene, her parents over-protective. Ramdass and her 10 siblings were not allowed to travel.
A portion of her elementary education was obtained at Susannah's Rust Primary School. But essentially she was home-schooled.
Being perennially surrounded by nature during her childhood, Amy said that she was able to engross in deep thinking – "to go deep for answers."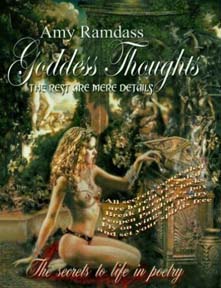 She sailed high seas and roamed deserts of the written word as she journeyed with numerous authors. "Much of what I've leant in life is from books, not from people," Ramdass declared.
She states in the introduction of Goddess Thoughts that she fell in love with the written word at a very tender age mainly due to the entertainment void at Susannah's Rust. "Books [wove] a magical flying carpet to secret worlds of intrigue, danger, romance, mystery, enchantment and wonder…it was poetry in the verbal and musical form that really enthralled and enticed…," she said.
Poetry became her solace. Her indulgence in the art form ruptured the monotony of academic study.
From childhood she began to pen her own feelings, working mainly during the early morning hours when her thoughts "flow like a river" and she can write her "heart out."
As she matured, got married, moved to Canada and started a family, her interaction with people improved. Her relations with others boosted her writing.

Although Ramdass believes that her writing ability is a gift, she says, "Just being around people inspires me to write. I see their positives and I want to show them that they have something beautiful inside of them."
Tragedy also induces her ink on paper talent as it did when her father died in 1988. Prior to his death, Ms. Ramdass had put poetry writing on hold. She got serious about compiling the book six months ago.
With the title coined, she went after internationally recognised visual artist David Howard Johnson, who sketched a thought-provoking cover design for Goddess Thoughts: The Rest Are Mere Details.
The title of her book is inspired by Einstein's "I want to know God's thoughts, the rest are mere details.'
And who is the Goddess?
Ramdass answers: "Some believe that she is the divine principle, the feminine aspect of God, while others feel she is nature, the creative Goddess. I also believe that the Goddess is the ultimate power, the supreme mind within each woman. She is wholeness, negative and positive, good and evil, Kali and Durga, black and white, life and death. She is like the sea totally healing yet totally destructive. She is the warrior woman and the peacemaker, the unholy one and the saint."
"Read the poetry!"
It resounds with Amy Ramdass' thoughts and many details.



Editor's Note: Published in the Chronicle, 01/08/2006