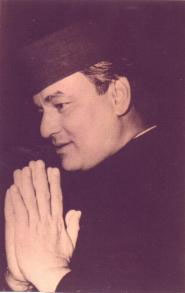 ''Singing is a beautiful hobby, but a painful profession"—Mukesh

Article by Lata Khubchandani
The date: August 27. The place: Detroit, USA. Mukesh Chand Mathur, or simply Mukesh --as he was known to millions of fans -- breathed his last on this day in 1976. At that time, Mukesh was touring the US with Lata Mangeshkar and others, giving stage performances.
One of 11 children, Mukesh was fond of music right from his childhood. He was discovered by actor Motilal who heard him sing at his sister's baraat. Impressed by the young Mukesh's voice, Motilal invited him to Bombay. That was in 1940.
Motilal looked after the young boy while Mukesh trained under Pt Jagannath Prasad. He started his career with Nirdosh in 1941 in which he sang and acted.
But it was in 1945 that the audience sat up and took note of him-- when he sang Dil jalta hai to jalne de in Pehli Nazar. Mukesh, who worshipped K L Saigal, near perfect take-off on his idol with this song.
There was no looking back after that. The pathos in his voice was eminently suitable for the tragic films which the Indian audience simply loved in those days. In 1948, Naushad Ali got Mukesh to sing Bhoolne wale yaad na aa, in 1949 the same music composer gave him Tu kahe agar, Jhoom jhoom ke naacho aaj, Tute na dil toote na, Hum aaj kahin dil kho baithe for the Dilip Kumar starrer Andaz.
The film was a big hit and Mukesh came to be identified with Kumar, though he had sung for Raj Kapoor in 1948 in Aag. The Raj Kapoor-Mukesh team later created celluloid history as the two became synonymous with each other.
From 1949 onwards, the duo gave us memorable songs such as Chhod gaye baalam, Zinda hoon is tarah, Awara hoon, Raat andheri door savera, Mera naam Raju, Mera joota hai japani. The songs from Mera Naam Joker are also among the all-time favourites of Hindi cinema.
Mukesh was often described as a singer whose range was limited to melancholic numbers. But what one often tends to overlook is the fact that he was equally adept at singing bhajans. Pita maat sahayak, Sur ki gati main kya janoo or Tulsidas's Ramcharitmanas are examples of his virtuosity.
In 1946 he met and married a Gujarati girl named Bachchi. Since he was a Mathur Kayasth, there was stiff opposition from her family forcing them to elope. It was Motilal who gave away the bride. Around the same time, Mukesh's career also reached its peak.
Above all, he was a good human being, always concerned for others, always willing to help newcomers, often singing without any fee when the composer couldn't afford him. When he saw that his son Nitin was inclined towards music, he encouraged him. But he also had a word of caution: 'singing is a beautiful hobby, but a painful profession,' Mukesh told him.
He had seen the heartache, the pain, the difficulties and sometimes rejection and knew that it required a kind of dedication that young people may not have. Says Nitin, "I don't claim to have the sort of dedication that he had. He would wake up at 5 in the morning -- even if he had gone to bed just 15 minutes earlier -- and do his riyaz for a couple of hours. Then he'd go for a walk to Hanging Gardens. I think he had befriended every flower in the garden."
Mukesh arrived in the golden era of music. There were songwriters like Shailendra, Kaifi Azmi, Majrooh Sultanpuri, Shakeel Badayuni, composers like Naushad, Khayyam, S D Burman, singers like Mohammad Rafi, Talat Mahmood, Manna Dey.
According to Nitin, Mukesh loved Lata and Geeta Dutt. There were times he started crying when he heard Lata sing. Initially, he used to call her by her name but later he started calling her 'didi.' "When she protested saying he was older, Mukesh replied, 'we all look up to you because of your art and I want everyone to call you 'didi'. He also adored Rafisaab and Kishore Kumar. He was never one to hold back praise for anyone," says the proud son.
Mukesh received the Filmfare award four times -- for Sab kuch seekha humne (Anari), Gangaram ki samajh mein na aaye (Pehchan), Jai bolo beimaan (Beimaan) and Kabhi kabhi (Kabhi Kabhi) -- the last being in 1976, the year he passed away. He had also received the National award the year before.
Nitin recalls his father's generosity. "When we went on tours," says Nitin, "We used to be put up in the best hotels while the accompanying musicians were put up in the less expensive ones. He said since the organisers couldn't put up everyone in expensive suites, it would be easier for us to shift to their hotel. So we used to go and stay with the musicians. He taught us discipline by being disciplined himself."
There were times when Mukesh faced financial adversities, but he never let it affect his children. Nitin narrates an incident. "When I went to college, all my friends had a car, so I wanted a car too. I told my mother and she told papa. He immediately gave me the keys of his own Fiat," he recalls.
Nitin was thrilled about it and used the car for some days, before realising that his father was travelling by bus. "I was upset and told him 'why don't you buy a new car?' And he said, 'I can't afford two cars, and you must have a car, so you use this.' When I protested, he told me 'I'd like you to have a car when you can afford one.' After that the car didn't matter to me," states Nitin.
Mukesh himself wasn't highly educated, so he was keen that his children got good degrees. He sent Nitin to the London School of Economics, but he returned after a while. "When I came back, I must have shattered his dreams and caused him embarrassment, but all he said was, 'yes, I know you want to sing and now I'm sure you'll take it seriously,' " says Nitin.
He was with his father on the tour to the US when Mukesh passed away. "He had a heart problem, but was cheerful throughout the tour. I remember it was raksha bandhan day, we were in Washington and he sent me off to sightsee while he secretly went to visit a doctor. I did not know this, but he needed a bypass surgery. But he had a commitment to the organisers of the tour and took the doctor's permission to sing for this tour," recounts Nitin.
Mukesh asked his son to sing on this tour. Once, after Nitin got a thunderous ovation, there were tears streaming down his face. He told Lata Mangeshkar, "Mujhe lagta hai ki Nitin dal roti kama lega" (I think Nitin will be able to earn his bread and butter).
Says Nitin, "On August 26, we reached Detroit. The next day, we had a show. He got up early and went for a shower but came out panting. I called Lataji and an ambulance took him to the hospital. He was wheeled into the emergency ward and that was the last time I saw him. I brought him back to India on August 30 on the same plane in which he was booked as a passenger."

****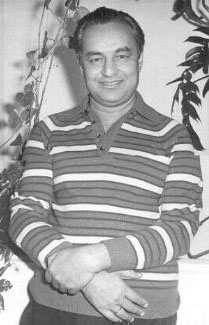 Article by Nalin Shah Alam

When Mukesh boarded a flight to the USA for a concert tour with Lata Mangeshkar he had no inkling that he would not be returning alive.

On the fateful day 27th August 1976 the concert hall in Detroit was full. The audience waited eagerly when the shattering news of Mukesh's sudden death was conveyed. The show was cancelled.
Mukesh had suffered a massive heart attack and was being carried to hospital just about the time the audience was trickling in to relish an evening of soulful music. He was 53. Mukesh sang just about 1000 songs in the career of 35 years. The average of 28 songs per year might not be an impressive one but considering the popularity of the songs it did highlight the fact that what he sang was more important than how much.
Mukesh was a singer of the masses. His simple and humable songs reflected the hopes and aspiration of the common men. And that explains the immense popularity of his songs such as 'Gayeja geet milanke' ('Mela'), 'Jhum jhumke nacho aaj' ('Andaz'), 'Awara hoon' ('Awara'), 'Main raahi bhataknewala hoon' ('Badal'), 'Chandan sa badan, chanchal chitwan' ('Saraswatichandra'), 'Dost dost na raha' ('Sangam'), 'Sajan re jhooth mat bolo, khuda ke paas jaana hai' ('Teesri Qasam'), 'Ek din beek jaayega mati ke mol' ('Dharam Karam').
Mukesh started his career as a singer-actor with the film 'Nirdosh' in 1941. He sang his first film song 'Dil hi boojha huva to fasle baher kya' in the film. Even after four years of struggle he did not succeed either as a singer or an actor.
It was at this time that his cousin, the celebrated actor Motilal came to his rescue and advised him to turn to playback singing. The song 'Dil jalta hai to jalne de' he sang brought him into limelight. Subconsciously he had tried to imitate Saigal who was his idol. But soon he realized that for success he needed to have his own identity. Under the guidance of his mentor composer Anil Biswas he did just that when he sang 'Jivan sapna toot gaya' in 'Anokha Pyar' (1948) for Biswas. At last he got the success he deserved.
Mukesh rose like a meteor and sang as many as one hundred and thirty songs between 1948 & 1951. It may not be an impressive figure in itself yet it can be termed phenomenal compared to the sudden slump in his career from 1952 when he sang only 55 songs in 7 years despite intermittent hits as in 'Aah', 'Shri 420' and ' Madhumati'.

It was his good looks that brought about his downfall. The looks tempted him to be an actor once again as in 'Mashuqa'. He agreed to the producer's stipulation that he gave preference to the film 'Mashuqa' even at the cost of playback singing, which created an impression that he was no longer interested in singing. 'Mashuqa' was delayed and by the time it was completed and released Rafi and Talat established their supremacy. Between 1952 and 1958 Rafi sang as many as many 823 songs and Talat 286 songs compared to Mukesh's 55.
The success of his song 'Ye mera diwanapan hai' in 'Yahudi' in 1958 brought Mukesh into reckoning once again but the damage done to his career could not be repaired. And that accounts for his just about 1000 songs in the career of 35 years.
If Mukesh's favorite Music Directors such as Anil Biswas, Roshan and Shanker-Jaikishan deserted him he found a sheet anchor in Kalyanji and Anandji and Laxmikant Pyarelal. It is another matter that Kishore Kumar eclipsed all other singers after the success of 'Aradhana' in 1969.
Even then, with the passage of time, music became more flashy and ostentatious Mukesh songs appeared to be peaceful islands in the turbulent ocean of sound. The merciful death probably spared Mukesh from being a part of the sound and fury in music in the stormy 80s and beyond.