Intro: Mr. Balram Singh Rai was Guyana's first Home Affairs Minister whose term was short-lived after Dr. Jagan asked the Governor to revoke Mr. Rai's ministerial portfolio in June, 1962. This was subsequent to Mr. Rai, who was Deputy (Vice) Chairman of the PPP, being expelled by Dr. and Mrs Jagan, because he would not retract his statement that the Jagans rigged the PPP elections for Party Chairman post in 1962. Rai was not going to be bullied or become a Communist as was the Jagans' idelogy at the time.
The Jagans passed around slips to delegate-voters, with names they were meant to vote for. Mr. Rai migrated to the UK in 1970, refusing offers from Forbes Burnham, and a lucrative legal career in Guyana. He never returned to Guyana and has since lived in self-imposed exile in England. Over the decades, the PPP has engaged in erasing Mr. Rai's role in Guyanese history by refusing to mention his contributions in their articles, in Dr. Jagan's books, etc. The fact that most Guyanese who were born after the sixties do not know of Mr. Rai, is evidence of the PPP campaign.
On February 16, 1962 ("Black Friday"), when British Guiana was in the throes of supposed anti-budget demonstrations, led by Mr. Burnham and Mr. D' Aguiar (funded by the CIA), Home Affairs Minister Rai single-handed manned the situation as every other PPP minister including the Jagans were in hiding. Mr. Rai was able to countermanned the order by the police commissioner to shoot protestors if needed. If this had happened, BG would have descended into a state of civil war. For much more, please see the page on the Rai Debate. Below is he review of the new and first book on Mr. Balram Singh Rai. Also, the controversial lauching of the book in Guyana where the son of Dr. Jagan, "Joey" Jagan offensively protested the depiction of his father by columnist, Frederick Kissoon, saying he'd slap the columnist if he was at the book launch.
See the Rai Debate in Guyana's Press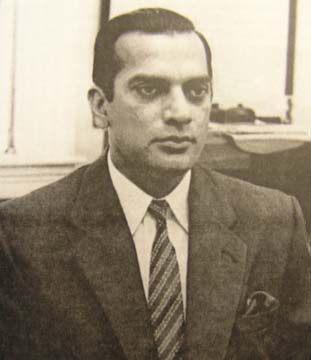 The Hon. Balram Singh Rai as Home Affairs Minister, 1961-62
Balram Singh Rai. In 2004, while the funeral of Mr. Dave Appana who was slain by bandits, was in progress in Enterprise, ECD, across the street in a shop an old Indian man sat alone, garbling out of frustration at the crime situation. One word was being repeated: "Rai." Rai—the word, since the sixties, has gone on to assume a mythical status of its own, despite the efforts of the PPP to erase Rai's political contribution from the national conscience. It recalls Shakespeare's Lady Macbeth trying to get rid of bloodstains of a king she forced her husband to murder; stains that were not there:
"Out, damned spot! out, I say!...What need we
fear who knows it, when none can call our power to
account?--Yet who would have thought the old man
to have had so much blood in him....
Here's the smell of the blood still: all the
perfumes of Arabia will not sweeten this little hand."
—(see Macbeth, Act V, Scene I)
Balram Singh Rai is the difficult subject of a very necessary book: Against the Grain: Balram Singh Rai and the Politics of Guyana, by Dr. Baytoram Ramharack. At over 400 pages, it is a staggering collection of detailed chapters, appendices of key documents (e.g., the Justice Party manifesto), letters, speeches, revealing political cartoons, an epilogue, and photographs in an ambitious effort by the author who had limited meetings with Mr. Rai in the UK, none of which could have been recorded.
The book begins with a prologue written by Mr. Rampersaud Tiwari, former Assistant Secretary to the Premier and to the Council of Ministers, who was acquainted with Dr. Jagan and Mr. Rai personally. It is followed by an essay by Mr. Clem Seecharan, historian. Tiwari's well-written prologue does two important things; it sets the tone by placing Rai within a tradition of East Indian public-service figures beginning at the turn of the century. Secondly, he offers privileged insights; the reader hears of Burnham's admiration for Rai. Rai would receive the foremost of positions offered by Burnham, including Speaker of National Assembly and Appeals Court judge—all of which were refused.
With Seecharan, one contemplates the effects of Marxism on Jagan and his alleged abandonment of Indian heritage, while Rai remained rooted to the tenets of Arya Samaj, a mid-nineteenth century reformist Hindu movement exported to the colony later, with the first branch in Rai's locale: Triumph. Because Rai's character was heavily influenced by his Hindu views, an entire chapter, though short, is devoted to the Arya Samajists and their heroes, perhaps to foreshadow an unwavering Rai of later chapters.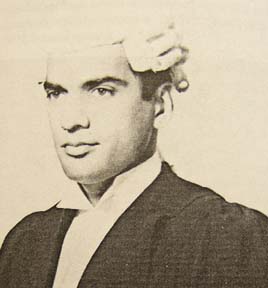 Mr. Rambarack is well read, and years of research have provided valuable information. His previous book, the Centenary Celebration of the Arrival of Indians to British Guiana: 1838-1938 (2001), a republication of essays association with the British Guiana East Indian Association, once a premier Indian organization (where, incidentally, Rai met the Jagans), gave groundwork for this book's early chapters. To understand either Rai or Jagan, one must go back as well as recognize the East Indian sensibility. Though Jagan is overtaken by his New World socialism, both men began with Indian organizations; both were very handsome, young articulate Indian men until the difference was to become a measure between one's principles and the other's politics.

Rai the attorney, wearing "silk."
After the first 100 pages, the author devotes chapters to crucial historical periods, from Rai and the 1947 and 1953 elections to his "strengthening" of the PPP after the exodus of prominent figures such as his friend, Sydney King. The deeper one gets, the more one has to read against the backdrop of the period 1957-1964, the best and worse of times in Guyana's old politics. In 1957, he wins a Legislative seat; as a PPP minister, he argues to liberalize local government; he affected changes in the police force such as enhanced Indian recruitment; his role at the historical 1960 Constitutional Conference in London, where the issue of self-government was discussed, is inescapable. By 1961, under his tenure dual-control of Christian-ran schools ceased, but it was as the country's first home affairs minister that he is best remembered.
One detail must be said, in a nutshell. On "Black Friday" (Friday 16, 1962) the colony is in the throes of supposed anti-budget demonstrations, led by Mr. Burnham and Mr. D' Aguiar and funded by CIA money funneled, allegedly, via an account at the Royal Bank of Canada. The police commissioner issues a fatal order to open fire into the crowd if need be. Meanwhile, the PPP leadership is in hiding; Rai alone is on duty. Fortunately, he countermanded the order before a shot was fired, averting civil war and a return to full British rule.
Yet, Dr. Jagan failed to mention Rai's role in his "West on Trial," just as Mrs. Jagan ignored it in "Getting into Stride" (see www.jagan.org website), her article about the 1947 elections. Over generations, many historians-writers have done likewise; one is Mr. Sallahuddin in his book, Guyana: The Struggle for Liberation (1945-1992). This is why Against the Grain is "necessary," for it heralds a reverse of four decades of "overpowering defamation" (Clem Seecharan) of Rai, who has been villainously accused of being "racist" and working for the PNC, UF, and the CIA.
A people cannot escape their history. Today, there exists a generation who, schooled in the slander of the sixties' PPP "bottom house" politics, is yet to be freed from that nightmare. If this book is accurate, and I think it is, then there is no evidence that Rai was either a "racist" or supported by the CIA. Further, this book is frighteningly current because Rai is still relevant. In 1964, he said the following as if it was 2005: "Today there is deep racial antagonism between Indian and Africans, virtual economic bankruptcy, mounting unemployment, nepotism and corruption in high places, general lawlessness and total insecurity of life and property in the land" (see Justice Party manifesto).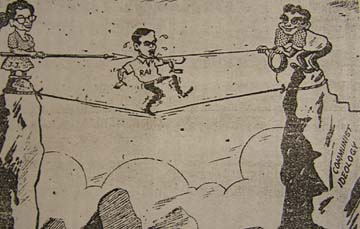 Of course, the wrestling match between Jagan and Burnham continuously defined the unquestionable Indian leader. It seemed inevitable that Rai confront Jagan, and when he did, it was along the line of ideology. Rai was very practical; Jagan was saturated with a straight-jacketing Marxism. For example, both memorialized Gandhi; Jagan's Mahatma is bare and defined by sheer politics; Rai reaches beyond this to Gandhi the teacher, philosopher. Rai's failed attempt to be party chairman (election rigged by the Jagans) was his failure to stem the Communist tide; it was where Burnham won the wrestling match. Because Rai did not promote a political career, Moses Nagamootoo is wrong to say Rai used religion to "mask his political opportunism." East Indians voted by race, not religion, although it were religious leaders that requested Rai to form a party in 1964, since a coalition government that refused to work with Dr. Jagan would leave East Indians unrepresented.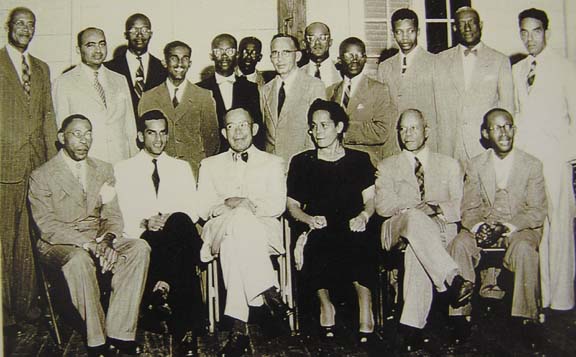 Balram Singh Rai, second from left, front row, as Senior Vice President (and President of the Junior Section)
of the British Guiana Civil Servant Association, 1949-1950. Photograph, courtesy of Rampersaud Tiwari,
from the unpublished "Memoirs of an Indo-Guyanese Civil Servant" by Rampersaud Tiwari.

Others in the photograph are; Sitting from left; R.S. Petrie, Treasurer, Holman B. Williams, President,
Mrs. Holman Williams, A.A. Bannister, Vice-President, and CW.B. Deane, Secretary. Standing from left; R.C.G.
Potter, R. S. Persaud, M. R. Chase, B. M. Viapree, J.E. McAdams, R.O. Gibbons, C.G. Small, Ludwig Robinson,
Herbert Thomas, R.O. Duke, Secretary of the Junior Section, F. H. Pollard, and P.C. Cox.
In 1970, Mr. Balram Singh Rai left Guyana never to return. Now 85, he has suffered fates only common in ancient mythologies and novels. If there is a shortcoming in this book besides minor repetitions given its expanse, it is the absence of an exiled Rai. We are not told of the agining Rai, just as we learn little of a young Rai, the arya samajist in BV. Yet, though exile adds to the mystery, what Dr. Rambarack gives is what Guyana needs. It remains now for Guyana to return Mr. Rai to his appropriate place in its annals and to ensure that he is honored with his parliamentary pension, for the sake of service and principle. And to prevent this tragedy from happening again. Looking back over the bloated decades of failed Guyanese political leadership, Mr. Rai stands out as the most complete of his contemporaries, still preserved in a time when he was young, upstanding, and fearless. It is no surprise that the old man in the shop is still reaching out for "Rai."
________________________________________________________________________________________
Balram Singh Rai Made Cheddi Jagan and PPP Strong
By Mohamed Nazir*

I was specially invited to be present at the Tower Hotel in Georgetown, Guyana, on Monday, 20th February 2006, at the launching of the book "AGAINST THE GRAIN— Balram Singh Rai and the Politics of Guyana" by Dr. Baytoram Ramharack. I commented on some crucial issues that needed clarification for the benefit of the people there.

Apart from my numerous and varied activities, I wish to state that I was an Articled Law Student and Legal Clerk to Mr. Jai Narine Singh, Barrister-at-Law and politician. Because of my close association with him and another distinguished Barrister-at-Law and politician, Mr. Balram Singh Rai, whose office was nearby to that of Mr. Singh's, I was personally responsible, after much effort, for persuading them to form the Justice Party in August 1964.

These two valiant gentlemen and I were foremost in the task of forming the Justice Party and its presentation to the electorate as the only political party that had the experience, honesty, fearlessness, and ability to bring economic, political and social progress to the people of Guyana. The Justice Party campaigned vigorously and truthfully under extreme hostile and hazardous conditions that were generated and intensified by the leadership of the PPP and its communist indoctrinated followers who were trained to do violence to Justice Party supporters and potential supporters.

I believe there was an unholy alliance between the PNC and the PPP at leadership levels to prevent the Justice Party from winning any seats because if that had happened it was feared that a combination of forces by Balram Singh Rai, Jai Narine Singh and myself would have sounded the death knell of the ethnic style divisive politics of the PPP and the PNC. This was evident from the popular broad-based support the justice-oriented Rajput, Balram Singh Rai and Jai Narine Singh and the Pathan Mohamed Nazir, were receiving from the electorate. There is therefore, no doubt that the Justice Party was cheated of its votes at the polls. Since then, Guyanese have been suffering many evils and they are travelling at great speed into a dungeon without any hope of escape or rescue.
At the Tower Hotel, Dr. Joey Jagan, Leader of the Unity Party, was highly annoyed by what Dr. Baytoram Ramharack had written in the book about his father, Dr. Cheddi Jagan. On the same day there was a publication by Mr. Freddie Kissoon in the Kaieteur News, and that publication specifically contained many devastating but very true statements about Dr. Cheddi Jagan.

That publication instantly invoked Joey Jagan's pugnacious tendencies and caused him to express his desire to engage in a pugilistic encounter with Mr. Kissoon, a veteran journalist. However, Dr. Joey Jagan does not seem to possess the malice, revenge and downright stupidity of those in the PPP. He was fair and bold enough to say publicly at the Tower Hotel that Mr. Balram Singh Rai should "receive every penny of his pension." Mr. Rai had given valuable and highly distinguished service as Minister of Home Affairs and in other aspects of government, yet he was denied a pension when he should have been awarded one. However, malice and communism were invoked to prevent this.

I have read the book written by Dr. Ramharack. It is an excellent composition of the political and parliamentary experiences of both Mr. Balram Singh Rai and Dr. Cheddi Jagan. The book is written with an accuracy of facts, and there is no bias. Dr. Ramharack was objective in his reasoning.

The book is great because it contains important statements about many other persons and situations other than those pertaining to Mr. Balram Singh Rai and to Dr. Cheddi Jagan. Since the author took six years and exerted great efforts to produce the book, it can be presumed that the book is accurate.

It may be pertinent for me to make references to some of Mr. Rai's activities so that readers may be able to get an insight into the ability of the man. He was a PPP delegate at the March 1960 British Guiana Constitutional Conference in the United Kingdom where through his skill and timely intervention a very important constitutional matter was amicably settled to the satisfaction of all those at the conference.

Mr. Rai was happily supported in his tactful manoeuvre and brilliant submission by the other delegates - Mr. L.F.S. Burnham and Mr. W.O.R. Kendall of the PNC; Dr. Cheddi Jagan and Mr. Brindley Benn of the PPP; Mr. Jai Narine Singh of the Guianese Independence Movement (GIM); and independents Mr. Robin Davis and Mr. Rahman B. Gajraj.

As a result, Her Majesty's Government conceded responsibility for Internal Security to an elected Minister and agreed to Dr. Jagan presiding in place of the Governor as Chairman of the Executive Council. At the same time, Her Majesty's Government approved a fully internal self-governing Constitution and conceded independence for Guiana.
I knew of these matters from Mr. Jai Narine Singh, Leader of the GIM who spoke with me and Mr. E. A. Triumph, Barrister-at-Law, GIM'S Secretary, in his legal Chambers in Croal Street soon after he returned from the conference.
Soon after the delegates returned from the conference, Mr. Balram Singh Rai, as Minister of Community Development and Education, was vested with additional responsibility for internal security, the work of the 1960 Hugh Hallet Electoral Boundaries Commission and for the 1961 General Elections, which through Rai's administrative ability and unbiased performance, the PPP won convincingly.

Mr. Rai's responsibility also extended to the work of the select committee of parliament that was appointed to consider the national symbols and to define the ceremonials and protocols for an independent Guyana with the objective of accelerating a social order under the Rule of Law and the principles and practices of democracy.
Most importantly, Balram Singh Rai was Senior Vice-Chairman of the PPP and Guyana's first Minister of Home Affairs. He was not a "relatively minor figure" in Guyana's politics as stated by the writer of a review of Dr. Ramharack's book in a community newspaper in Toronto. Mr. Rai was a major figure.

It is important for me to state that it was Mr. Jai Narine Singh who had tabled the Motion for Independence in the Legislative Council in June 1958. The Motion was seconded by another East Indian legislator, Mr. Anthony Martin Fredericks, an independent member of the Council.

Guyanese, especially sugar workers, should remember their history and their heroes like Mr. Mohamed Ayube Edun, an early President of the Manpower Citizens Association (MPCA), who represented them for many years when they had no other representative to speak for their cause. They should not forget the militancy of their forebears, especially the women workers who struggled against many inhuman odds and sacrificed much in the cause of industrial justice for them and their families. Women workers like Jamini, Salamea, and Sumintra.

Jamini was a pious Brahmin indentured woman who cared for infants and old women at Plantation Non Pareil, East Coast Demerara. She was raped by the Deputy Manager of the estate, and this led to an uprising of the workers on the estate in 1896.

Her husband Jungli, whose real name was Seetaram Panday, was shot and killed by Capt. De Rinzy of the Militia in the struggle that followed. Salamea was a Pathan warrior woman who was a weeder at Plantation Friends, East Bank Berbice. She urged her female comrades to fight in the 1903 Friends Uprising.

Sumintra was a Rajput warrior woman who was also a weeder at Plantation Leonora, West Coast Demerara. She led her comrades in the 1939 Leonora Uprising. Sumintra was shot and killed by the police under Superintendent Weber. These militant women fought for social justice long before the PPP and GAWU came into prominence in the struggle for freedom and social justice for sugar workers.

Mr. Jai Narine Singh, Dr. J.P. Lachmansingh and Mr. L.F.S. Burnham had made the PPP strong. When they left the PPP in 1955, Dr. Cheddi Jagan and the PPP were left without brilliant friends. It was then that Dr. Jagan sought the help of Mr. Rai to support him and to strengthen the PPP.

Now, lamentably, our homeland Guyana and our people are downtrodden. Communism has taken hold in the country, the people and the religions - Hinduism, Islam and Christianity. The economy is destroyed. Our people live in fear and there is a great exodus to other lands.

* [Mohamed Nazir was one of the founding members of the Justice Party of 1964, which was headed by Mr. Rai. This was first published in a letter form in Kaieteur News, 04/03/06.]
_________________________________________
The Cheddi "Joey" Jagan Jr. Attack on Frederick Kissoon
"I would slap him in his face for what he wrote today (Monday) in the Kaieteur News," Jagan said, while surveying the room."
Book on Balram Singh Rai launched -Controversy Over portrayal of Jagan
Stabroek News
A new book examining the life of 1950s politician Balram Singh Rai was launched on Monday amidst controversy over its portrayal of the country's late President, Dr. Cheddi Jagan.
Baytoram Ramharack's Against the Grain: Balram Singh Rai and the Politics of Guyana has earned both praise and revilement since its publication last year, feelings that rose to the surface when it was officially launched on Monday. "I take affront to some of the things you have been saying. A lot of affront,"
Unity Party leader Dr. Cheddi Jagan Jnr told the author at the small ceremony, before launching into an attack on the book's claims about his father's cultural shallowness as well as the magnitude of Rai's contributions.
Dr. Jagan also singled out political analyst Freddie Kissoon for his column in Monday's Kaieteur News where he offered an endorsement of Ramharack's work.
"I would slap him in his face for what he wrote today (Monday) in the Kaieteur News," Jagan said, while surveying the room.
Dr Jagan Jnr defended the late president while arguing that Rai was not worthy of equal appraisal. He admitted he had not read the book but said he was au fait with the claims. He acknowledged Rai's usefulness but pointed out that all of the initiatives credited to the man were agreed upon and implemented by Jagan. "My father was the ...leader of this country and he always believed in collective government long before Balram Singh Rai could even think of it," Jagan said. "Cheddi Jagan was in a league all by himself, don't tell these people here that Cheddi Jagan didn't understand life among people and put on his modesty," he said, while charging that Rai had even made racist statements to him. Jagan Jnr also called Rai a quitter for "running away" to England instead of staying here but others in the audience noted that Rai's leaving might have been what allowed him to live a long life. Rai is now 85.
Ramharack asked Dr Jagan Jnr to see it for what it was. He said others would also write biographies and these might also be upsetting. "I understand your point, but things happened. We have to find a way to interpret those things. Cheddi Jagan made mistakes," he pointed out to Jagan Jnr, who retorted that his time on the campaign trail substantiated that as much as 95% of the country love Cheddi Jagan. "You are only making Rai worse off in the end. To denigrate Cheddi Jagan to bring Rai into focus makes no sense," he said.
Ramharack said Rai's contribution could not be understood unless Jagan was also understood. He said he had spent six years completing the book and he thought it an attempt to fill a piece of the puzzle of the country's political history. He noted that initially Rai's name was often attended by controversy and he viewed the man's legacy as an opportunity to explore the country's history from a different angle. He said Guyana's history was often seen from the perspective of Jagan's West on Trial but he pointed out that there were other perspectives.
He said the West on Trial paints Jagan as a saviour in Guyana but he noted that a lot of missed opportunities and contradictions were exposed by Rai who left Guyana in 1974. However, he cautioned that he was not making Rai into a messiah, as there were also weaknesses in his character. He said one of them was his decision to migrate, though even on this point he acknowledged that he could not understand his psyche at the time. He said this was in great part due to the work done to assassinate his character by the PPP and its youth arm the PYO.
In this regard, he said from a historical context it was clear that the PPP was an organization with a pattern of aggressively going after Indian political actors and organizations that it felt were threats to them. He said the campaign against ROAR bore evidence of that.
However, Ramharack was hopeful that the book would offer readers an opportunity to reflect. Chairperson of the ceremony Ryhaan Shah expressed similar sentiments and she said the contents of the book were still very relevant to the country today and she said it gave pause to re-examine the choices that have been made and the many missed opportunities.
One of the lasting stories about Rai's experiences with the PPP was being cheated in rigged party elections.



Today, at Hotel Tower , Our Eyes will Open

By Freddie Kissoon
I grew up in a household that was supportive of the PPP. It was a time of the great racial divide. But my family was a multi-racial one. There were many African-in-laws in our family, so race didn't matter. Today, one of the male Kissoons that was named after me is a PPP activist. He even refers to himself as Freddie Kissoon and his PPP colleagues call him Freddie Kissoon.
The reason why my mom and dad, big brothers and big sisters liked the PPP was because of Cheddi Jagan and not because it was an Indian party. An enduring reason why countless people continued in their likeness for Cheddi Jagan after he had lost the 1964 election was two-fold. First, the sympathy for Jagan as a CIA victim was enormous. Secondly, Burnham came across to them as a cunning, ruthless man. If there was no CIA in Guyana and Forbes Burnham was a gentle, humane, politician, the myth of Cheddi Jagan's greatness would not have evolved.
That evolution is equally responsible for the destruction of Guyana as Burnham's power obsession. For me the historical record is indisputable – Jagan and Burnham were destructive men who do not deserve a positive place in history.
I grew up admiring Cheddi Jagan. It was when I joined the WPA and became a political activist, and simultaneously a university student that I saw the true colour of Cheddi Jagan. My heroic perception of him died along the way.
Jagan's party catered for his Indian constituencies. Jagan catered for his personal ideology only. Jagan catered for only what he wanted for himself and his party. The only thing I ever saw that was positive in Cheddi Jagan was his modesty. But even that may have been a game he played to deceive you into thinking he was sincere.
After he returned to power, my patriotism drove me to work with his government for the true development of my country. But Jagan in power was worse than Jagan in the opposition. It is no accident that he died and left a government that Transparency International perceives as one of the most corrupt in the world. It is no accident that he died and left a government that is outrageously and despicably narrow-minded; drowning in a lost and bygone ideology and the long night of their rule threatens the very existence of tragic Guyana .
As the nineties grew older, and as I concentrated on bringing political analysis in a popular form to the newspapers in Guyana , I began to yearn for young Indian intellectuals to join me in researching the myths of Cheddi Jagan. This was not meant to be insulting to three erudite Indian Guyanese who had done brilliant work in telling not only Indian Guyanese but the entire nation that Jagan was equally flawed as Forbes Burnham. Those three persons were high-class freedom fighters - Moses Bhagwan, Dr. Joshua Ramsammy and Dr. Rupert Roopnarine.
But these men didn't write about what they analyzed and found out about Jagan. I only knew about their thoughts because I was their political colleague in the WPA. What was lacking was the birth of young Indian intellectuals, not in the least fascinated with Jagan, and interested in researching his legacy.

That moment has finally arrived. Two books are out on Cheddi Jagan. Both of them have virtually destroyed his legacy. They were released just around the same time - six months apart. The earlier one is written by a friend of mine who studied with me at MacMaster University in Canada , Dr. Clem Seecharan. It is entitled, "Sweetening Bitter Sugar: Jock Campbell, the Booker Reformer in British Guiana, 1934-1966."
The other is Dr. Baytoram Ramharack, "Against the Grain: Balram Singh Rai and the Politics of Guyana." Today at the Hotel Tower , Dr. Ramharack will officially launch his book. You can bet your last Guyanese dollar that no one from the PPP will be there. When Dr. Seecharan had his launching earlier last year, his friend, the famous Guyanese scholar, Dr. David Dabydeen, arrived in Guyana for it. Dr. Dabydeen is very close to Mrs. Jagan. He told me that Mrs. Jagan declined his invitation to accompany him to the event. He suspected it was because the book had done serious damage to Cheddi Jagan's heroic status.
I mean no insult to Dr. Ramharack but what he will tell us this afternoon at the Hotel Tower many of us had known since the seventies. However, Dr. Ramharack fills in large gaps part of our task of making the picture complete.
The most enthralling section of Dr. Ramharack's book is Chapter 13 under the caption, "Rai-Jagan Split." This chapter together with appendix Q which consists of the correspondence between Rai on the one hand, and Dr. and Mrs. Jagan on the other, about rigging of internal PPP congresses and the irrelevance of communism in Guyana , is revisionist and iconoclastic history of quality and class.
There was bound to be a chasm between Jagan and Rai. Both were charismatic. Both were popular among Indian constituencies but it appears that Rai was the deeper thinker. Rai saw no practical purpose in Jagan's zealous communism and that would lead to his eventual divorce from the two Jagans. But the final nail in the coffin was the immoral and ethically reprehensible conduct of Cheddi Jagan in putting a man in charge of a party election when that very man was a candidate for the post of chairman, a position Rai himself was running for.
Rai couldn't believe this was the world of Cheddi Jagan as he revealed in his released correspondence (contained in appendix Q). The election was rigged with fascist propaganda and cruel accuracy. Rai was subsequently expelled for claming that the process was rigged. Balram Singh Rai had become a passing figure in Guyanese history Seecharan's book is a competent account of the life of an English socialist who wanted to use his company's wealth to give English liberal capitalism a human face in Guyana . But Cheddi Jagan ridiculed Sir Jock Campbell as a bourgeois masquerader who wanted to protect Booker imperialism in Guyana .
Jagan harassed Campbell telling him that only complete nationalization would be acceptable to him as Premier of British Guiana. Jagan's Stalinism made Campbell 's position untenable in BG. Seecharan documents Jagan's ruthless exploitation of the sugar workers in his quest for a communist Guyana . Fifty years after, Jagan's party is still doing the same.
Editor's Note: Top article from Stabroek News, 02/ 26/2006 and the Freddi Kissoon column from Kaieteur News, 02/20/2006